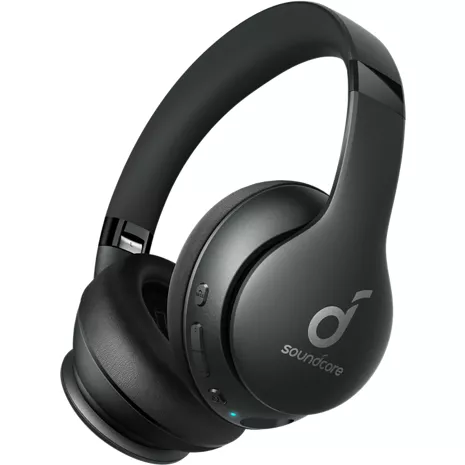 Overview tab selected 1 of 4
Overview Section Start
Enhance your audio experience with the Soundcore Life 2 Neo Over-the-Ear Bluetooth Headphones. These comfortable, Bluetooth® headphones deliver up to 40 kHz for a hi-res audio experience. The oversized 40mm titanium-coated drivers work with Anker-exclusive BassUp, our real-time bass enhancement algorithm, doubling the bass output. And, with its foldable design with reinforced hinges ensure durability with easy storage and transport.

Long-term battery life.
With help from Anker's power management technology, the Soundcore Life 2 Neo offers up to 60 hours of playtime.1 Plus, with a 5-minute charge, you can gain back up to 5 hours of playtime.¹

¹Battery life and charge cycles vary with use, settings, and other factors; actual results will vary.
Reviews
86% of reviewers recommend this product.
These headphones don't connect to my blue tooth system on my pricey iPhone
Jackie Young . 8 days ago
I'm going to have to return these as after wearing once they appear to not connect to my iPhone for some inexplicable reasons. What a hassle, I knew these were too cheap to be good. Ugh!
Anker Team - 5 days ago
Dear Customer,

I am truly sorry to hear that you are experiencing this issue. We understand how frustrating it can be and we appreciate your patience.

Please rest assured that we stand behind our products and are willing to provide assistance within our capacity. We are committed to ensuring your satisfaction and resolving your concerns promptly.

You can reach out to us via service@soundcore.com or call us at +1 (800) 988 7973. Our customer service team is always ready to help you.

We look forward to your message so we can address your issue as soon as possible. Thank you for bringing this to our attention and giving us the opportunity to make things right.

Best Regards,
Not loud enough nor sounds good
I prefer my beats and can't return due to a $50 restocking charge and that's the price of these unquality headphones. I'm on the loosing end even if you trade for something else you still be charged 50 fee bad deal all around. Should give me big discount due to this reason and there too big on me falls off around my ears
Anker Team - 5 months ago
Thanks for sharing your experience. I would like to present our deepest apologies for all the inconvenience.

I have documented your information and would forward it to our product team for further improvement. You know, a perfect product requires several improvements per the customer's voice and we always strive to improve our products. Appreciate your voice on this!

Please feel free to contact us via service@soundcore.com with your order information and problems. We will always be more than happy to help you.