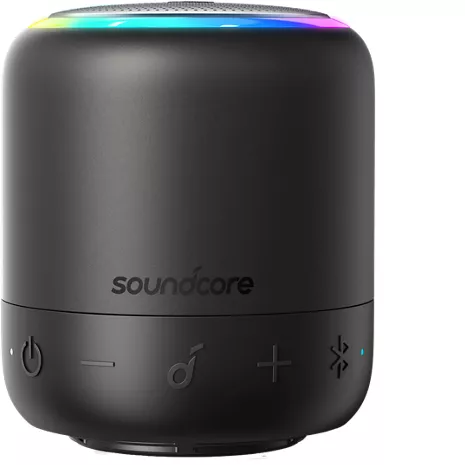 Overview tab selected 1 of 4
Overview Section Start
Pump up the volume with the Soundcore Mini 3 Pro Portable Bluetooth Speaker. BassUp technology combined with exceptional sound clarity creates size-defying sound. PartyCast technology allows you to pair up to 100 compatible speakers. LEDs pulse, phase and flow in time to the beat for a dazzling light show. With up to 15 hours of playtime, you can dance the night away.¹ And, with an IPX7 waterproof rating, you can even take your party poolside.²

Go further with the app.
The Soundcore app allows you to set your audio experience with a customizable EQ. And, with PartyCast, you can pair up to 100 compatible speakers together for synced-up sound.

¹ Battery life and charge cycles vary with use, settings, and other factors; actual results will vary.
² IPX7 waterproof rating. Can be immersed in water up to 1 meter for up to 30 minutes.
Reviews
94% of reviewers recommend this product.
Great small speaker, dies fast.
Mesa need a new speaker . 14 days ago
I have owned this speaker for a little over 6 months and used it for my commute to work, bacl from work and at work. While I had it the sound was amazing, fit in my car's cup holder, Bluetooth was strong, very rugged and all together a great little speaker. I knocked off a star because it doesn't last more than 1.5 hours of continuous usage from a full charge and it won't charge if you are using it. Knocked off 2 more stars as it only lasted me a little over 6 months before the speaker died. Took it to a repair shop and they told me the price to replace the speaker inside and completely repair it would be more than what I paid for it. In summary: great little speaker but the charge won't last for long drives and it won't last longer than a year.
Anker Team - 8 days ago
Dear Customer,

I am truly sorry to hear that you are experiencing this issue. We understand how frustrating it can be and we appreciate your patience.

Please rest assured that we stand behind our products and are willing to provide assistance within our capacity. We are committed to ensuring your satisfaction and resolving your concerns promptly.

You can reach out to us via service@soundcore.com or call us at +1 (800) 988 7973. Our customer service team is always ready to help you.

We look forward to your message so we can address your issue as soon as possible. Thank you for bringing this to our attention and giving us the opportunity to make things right.

Best Regards,
Let's all dance together.
Julia Franklin . 16 days ago
Yes, I'd recommend this product.
Wow, the sound of this Bluetooth Speaker will make you dance forever.