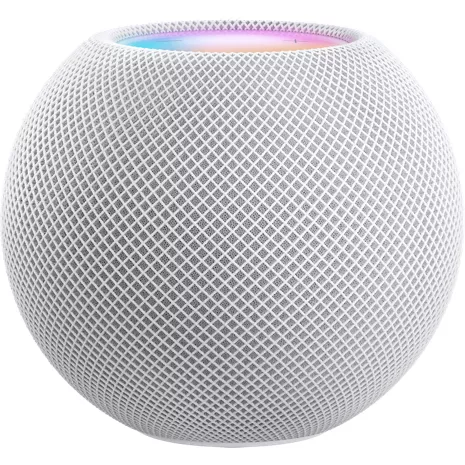 Overview tab selected 1 of 4
Overview Section Start
Amazing, room-filling sound.
Apple-designed full-range driver and dual force-cancelling passive radiators deliver deep bass and crisp high frequencies. Acoustic waveguide creates immersive, 360-degree sound, so you can place HomePod mini anywhere and enjoy great audio. Apple S5 chip and advanced software enable computational audio which analyzes the music and applies advanced tuning algorithms for even more detailed, rich, and balanced sound. 4-microphone design and advanced signal processing mean that Siri can hear you across a loud room even with music playing. Compact, spherical design is wrapped in a seamless mesh fabric designed for aesthetics and acoustic performance and it s available in white or space gray. Add a second HomePod mini in the same room to create a stereo pair. Place additional HomePod or AirPlay 2-enabled speakers in other rooms to play music throughout the home.

Incredible entertainment.
Enjoy songs from Apple Music,1 podcast episodes, and radio stations, or listen to other popular streaming services.2 Ask Siri to play a favorite song, artist, album, genre, or music based on your mood or activity.3 HomePod mini can recognize each of the voices in your home, so everyone can access their own playlists and get music tailored to what they like.4 Listen to what s playing on your iPhone just by bringing your iPhone close to HomePod mini to hand it off. Get an even richer handoff experience with an iPhone model with the U1 chip, and enjoy visual, audible, and haptic effects.5 Discover what to play by bringing your iPhone close to HomePod mini to get personalized suggestions from Apple Music and Apple Podcasts on your Lock screen.5

Powerful, intelligent assistant.
Hands-free help with everyday questions and. Everyone in the home can access their own Messages, Calendar, and Reminders, and make or receive phone calls.6 Start your day by asking, "Hey Siri, what s my update?" and get personalized news, weather, traffic, and calendar information.6 Check if a store or restaurant is open, or ask for local recommendations and when you leave the house, the destination automatically appears in Maps on your iPhone or in CarPlay. Locate other Apple devices with Find My by saying things like, "Hey Siri, ping my iPhone."

Smart home controls.
Seamlessly integrates with the Home app, so all your HomeKit accessories can be controlled with your voice.7 Use as a home hub and control your HomeKit accessories remotely or have them work automatically and with HomeKit Secure Video support, video analysis is done directly on HomePod mini and you can be notified if the video shows a person, animal, or vehicle. Compatible with Wi-Fi, Bluetooth, and Thread accessories.8 Use Intercom to send a message to a HomePod in another room. Intercom also works with iPhone, iPad, Apple Watch, AirPods, and CarPlay, to stay connected when you re on the go.

Privacy.
Only listens for "Hey Siri" so nothing is recorded until you ask, and it s only stored if you choose to share it to improve Siri. Requests are never tied to your Apple ID. Personal information, like messages, is taken directly from your iPhone and is never sent to Apple servers.

1. Apple Music requires a subscription.
2. Available with a free software update later this year. A subscription may be required for music streaming services. Services aren t available in all regions.
3. Works with Apple Music. Third-party service music requests vary.
4. Available in English.
5. Available with a free software update later this year.
6. Multiuser features are available in English.
7. Requires a HomeKit-enabled device.
8. Requires Thread devices that support HomeKit.
Reviews
71% of reviewers recommend this product.
Waste of money
$100 for a stationary Bluetooth speaker is a ripoff-
Crap!!
Maybe the most useless thing I've bought in years…. Spent an hour jacking around with this piece of crap… still not setup.. It will be returned…. Waste of my time!!