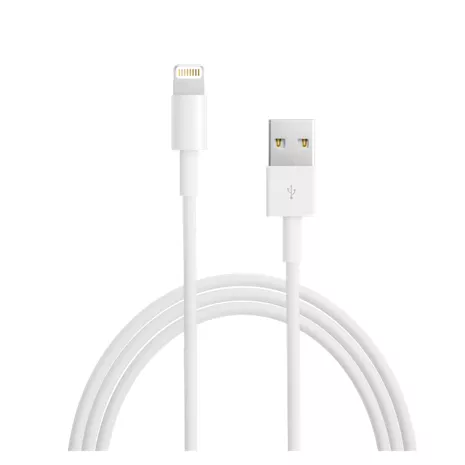 Overview tab selected 1 of 4
Overview Section Start
Fuel up faster with a 1-meter Apple charger cable for your iPhone, iPad or Apple Watch. Connect to your laptop's USB port to sync data or plug in to an Apple adapter.
Reviews
69% of reviewers recommend this product.
Perfect
Danny Ranger 27 . 18 days ago
Yes, I'd recommend this product.
I was in a complete panic - the guy - it was his birthday - took over and calmed me down immediately —- he was awesome ' and a little disappointed my lightning cable wasn't part of my insurance but I understand —- ♥️🔲🤍▪️▫️◼️🖤🤍🔳 thank you Verizon
customer service at store.
Gloria Fisher . 24 days ago
Yes, I'd recommend this product.
New cord is working fine. Not happy with customer service at store. I needed someone to show me, on phone, what buttons to hit to connect hearing aids to phone. Hearing aids were set up when I first got them, however, they seem to disconnect occasionally. Young man at door was very abrupt and told me to go to hearing aid place with questions. Verizon just does not have ANY customer service skills. Other people have complained to me about this. I am considering buying a new phone, however, will probably not buy one through Verizon again.