Apple Magic Keyboard Case for 12.9-inch iPad Pro (2021)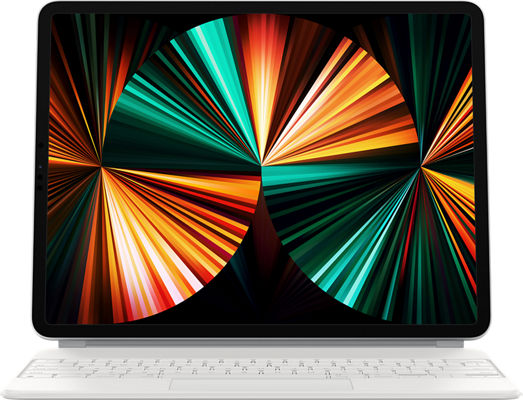 Get it fast
Select shipping options at checkout. Subject to eligibility.
The all-new Magic Keyboard is an amazing companion for 12.9-inch iPad Pro (2021) (2020). It features the best typing experience ever on iPad, with a fully backlit keyboard with a scissor mechanism for quiet, responsive typing. Designed for Multi-touch gestures and the iPadOS cursor, the trackpad opens up new ways to work with iPadOS. The USB-C port for charging frees up your iPad ports for other accessories. And, it folds into a case for front and back protection. With a new floating cantilever design, 12.9-inch iPad Pro (2021) attaches magnetically and allows you to smoothly adjust to the perfect viewing angle for you.
Reviews
14 reviews
of reviewers recommend this product.
Best in the business
Yes, I'd recommend this product.
My apple magic keyboard is such a pleasant surprise that i am overwhelmed. It's is far better than i expected. Ease of use it outstanding.lv
A MUST for the iPad Pro!
heathermsc13 · 25 days ago
Yes, I'd recommend this product.
I had an 11 inch ipad pro (2020) model for over a year and quickly regretted not getting the larger 12.9 inch size. When the new one came out in late 2021, I knew I wanted it and wanted this keyboard case. I loved the iPad pro 11 inch, but I hated the typing mechanism on the iPad itself. I found myself feeling restricted in how I could use it, but I loved the touchscreen interface. This keyboard was the first thing I purchased with my new iPad 12.9 inch pro I just got and gosh, I should have done this years ago. It's awesome! It's the perfect combination of typing, ease, and use. I do wish the outside of the case had more cushion, but all Apple products are well-made, so I feel this will be okay. When I go somewhere, I'll just take it on the go. The only thing I would say, it shtere needs to be a better system for having a place to store the pencil on the iPad itself. However, all other cases you buy that don't come with a keyboard (or do) for the iPad pro aren't anything close to what Apple offers with this. Can this replace a lapytop? No. There are still things my Macbook Air can do that this can't, but this is hands down the best way to use an iPad if you prefer to use it while responding to quick emails, browsing the web, interacting with apps, and more. The mouse hovers over the apps well and allows you to click on them like you would click on anything with a laptop, except because they are apps, the user experience feels way more high-tech than using your finger or just using a regular laptop. It's really hard to explain until you use this firsthand. This is the only way to use an iPad in my opinion, if you're an adult (kids wouldn't need this unless using for school, really), and if you like to use your iPad as an "in-between" device of a laptop and desktop for work like I do. Totally worth it! I have a smaller iPad mini that I'll use like a regular, on-the-go tablet, but for a Pro device, this is hands down amazing. Yes, Apple should make the iPad Pro more "pro-like" in its abilities to convert files and do other tasks like a regular laptop, but that has nothing to do with this keyboard. Totally awesome. Thank you, Apple and Verizon! I got the white color and love it. Wipes clean, easy to use, feels well-made and as if it will last. It's not cheap, no, but you won't regret buying this. Promise!