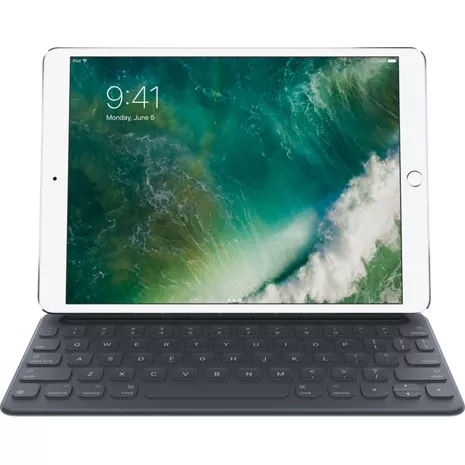 Overview tab selected 1 of 4
Overview Section Start
The Smart Keyboard for iPad 10.2-inch (9th, 8th and 7th Gen) and iPad Air (3rd gen) is the perfect blend of full-size utility and outstanding portability.

Specially constructed, the keyboard is a surprisingly thin and lightweight yet provides the accuracy, stability, and satisfying key feel of a traditional keyboard.

But, unlike traditional keyboards, there are no gaps between keys. The keyboard is also coated in a water and stain resistant finish, so the Smart Keyboard is resistant to stains and spilling.

Easy to use, travel-ready
When you need it, simply unfold the Smart Keyboard and it's ready for use. When you don't, fold it up and it doubles as a slim, lightweight cover for your iPad Pro.

Durable, intelligent design
What sets this keyboard apart is its triple-layer construction. The top layer is made of durable polyurethane. The bottom layer is a soft microfiber lining that provides screen protection and keeps it clean when the Smart Keyboard is folded.

The middle layer is composed of a conductive fabric material. When combined with the Smart Connectors on the connecting edge of the Smart Keyboard and the side of the iPad Pro, this conductive fabric ensures seamless communication between the iPad and keyboard.

No plugs, pairing, charging or switches required
Together, the Smart Connectors and conductive fabric inside the smart keyboard allow for a two-way exchange of power and data. Result: no plugs, switches or pairing required.

What's in the Box
One Smart Keyboard for iPad Pro.
Reviews
86% of reviewers recommend this product.
Great feel, and productivity shortcuts!
Yes, I'd recommend this product.
Still a little early to have fully evaluated the keyboard, but my initial impression is very positive. The only negative on first blush, is that the keys need a little extra pressure to fully complete the effort. But this is a very minor issue, as the added features accelerate a number of efforts, and addresses a number of limits inherent in using an iPad. These far outweigh any limited tactile imperfection.
Pad purchase
Yes, I'd recommend this product.
Purchased iPad and got great service. After I received help was forthcoming setting new one up