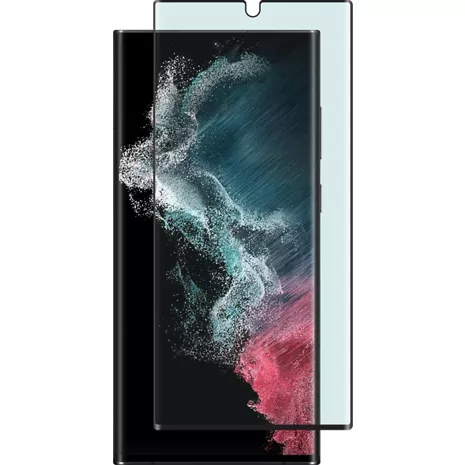 Free returns within 30 days.Details
Overview tab selected 1 of 4
Overview Section Start
Protect your eyes and your screen with the Bluelight and Antimicrobial Tempered Glass Screen Protector for Galaxy S22 Ultra. This scratch- and smudge-resistant barrier also filters high-energy blue light with retina protection. The true color display keeps your screen bright and vibrant. And, built-in antimicrobial protection reduces germs and bacteria on your screen.

Easy application.
The included Applicator Tool makes it easy to install your screen protector without any bubbles or bumps.
Reviews
11% of reviewers recommend this product.
Idiotic Reviews
1. Tempered glass screen protectors are not supposed to be actual "glass" and all feel like a plastic, but if you crack it I bet you will get glass shards in your fingers. 2. If your fingerprint isn't working it's because you DIDN'T rescan your fingerprint AFTER the install, as most screen protectors instruct you to do. 3. It's a screen protector, so having scratches on it means it's doing its job, don't you think? 4. If it has bubbles, you didn't install it correctly. Get another. Rating things a 1 star because of user error is ridiculous. Some of you people are never happy with anything.
Worst
ordered this product thinking it was glass when in fact it was plastic difficult to install and overall garbage