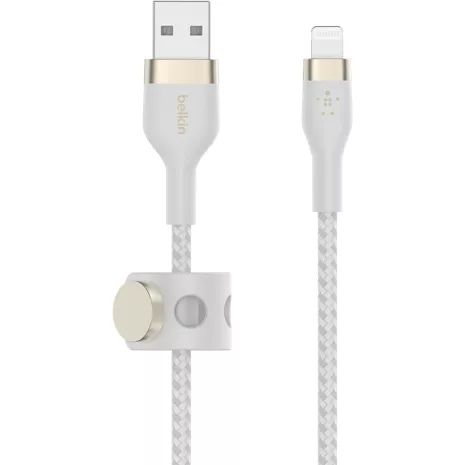 Meet the BOOST UP CHARGE PRO Flex USB-A to Lightning Connector, 2M: the soft, flexible silicone charging cable with up to 30x more durability¹ than other charging cables that lets you charge your smartphone on the go with ease. What's more, it includes a magnetized cable management system to easily store and mount your cable anywhere.

¹ Based on independent testing.

Reviews
50% of reviewers recommend this product.
Good concept but not perfect sssss
[This review was collected as part of a promotion.] I liked the idea that the cord could be attached to a table with a magnet, but there are a few issues with that. 1) the sticky back magnet falls off 2) the cord isn't flexible so it can really only be attached on top of a surface, not on the side. Otherwise, the cord itself works great!
Customer Service - 16 days ago
Hi lexieo3, We appreciate the time in posting a review! This is not the expected behavior of the cable and we would like to have this checked. Please call our phone support team through the hotline numbers listed in this link: https://www.belkin.com/us/support-article?articleNum=55022. The team is eager enough to lend you a hand with your challenges. Regards, Carl Belkin Support
Great covered cord sssss
[This review was collected as part of a promotion.] I always love to get a charger that is braided like this one so that it is protected and lasts longer. I compared this to a cheaper braided cord and this one is much thicker, providing more protection. The 6.6ft length is great for when you need to charge but still use your device or maybe your outlet isn't close to a table. The magnet is a nice addition, make it easier to find and keeps your charger where you want it and the strap is nice to wrap it up for traveling