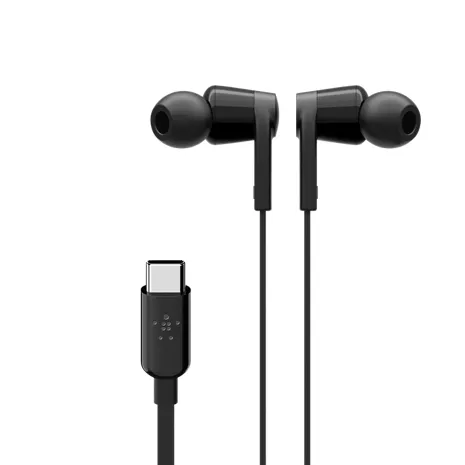 These Belkin Headphones with USB-C Connector combine superior sound quality with an easy-to-use, plug-and-play design for a simplistic listening experience. Choose from 3 ear tip sizes for a customized, comfortable fit. Angled drivers create a seal within the ear to increase audio performance and reduce ear strain. And, with a USB-C connector, they're compatible with a number of different devices, even if they don't have a headphone jack.

Easy to use.
These headphones are plug-and-play ready, which means no charging or adapters needed. All you have to do is plug them in and you're ready to listen. And a built-in microphone makes it easy to take hands-free calls without unplugging your headphones.

Tangle-free cable.
The lightweight, flat cable coils up easily for tangle-free storage. Tuck them easily into a pocket, backpack or purse and pull them out when you need them.

Durable design.
Based on Belkin's high-performing DuraTek™ cables, these headphones have been reinforced to increase durability. No matter how rugged your adventures, these headphones are designed to go the distance.
Reviews
12% of reviewers recommend this product.
Awesome, worth the money sssss
Yes, I'd recommend this product.
It seems like very comfortable. Good audio.