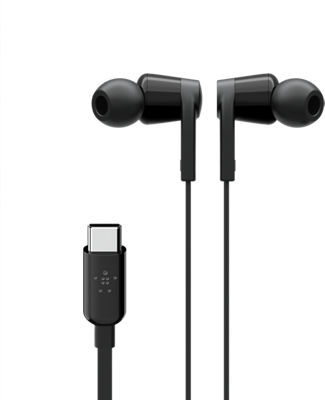 These Belkin Headphones with USB-C Connector combine superior sound quality with an easy-to-use, plug-and-play design for a simplistic listening experience. Choose from 3 ear tip sizes for a customized, comfortable fit. Angled drivers create a seal within the ear to increase audio performance and reduce ear strain. And, with a USB-C connector, they're compatible with a number of different devices, even if they don't have a headphone jack.

Easy to use.
These headphones are plug-and-play ready, which means no charging or adapters needed. All you have to do is plug them in and you're ready to listen. And a built-in microphone makes it easy to take hands-free calls without unplugging your headphones.

Tangle-free cable.
The lightweight, flat cable coils up easily for tangle-free storage. Tuck them easily into a pocket, backpack or purse and pull them out when you need them.

Durable design.
Based on Belkin's high-performing DuraTek™ cables, these headphones have been reinforced to increase durability. No matter how rugged your adventures, these headphones are designed to go the distance.
Reviews
152 reviews
of reviewers recommend this product.
Constant Static - Unusable
[This review was collected as part of a promotion.] Constant static when connected to laptop makes these headphones unusable. I was buying a pair with a lightning connector to use with my phone when I saw these. Belkin used to make great stuff but I'm not sure I will be giving them another chance in the future.
Customer Support - 12 days ago
Hi, We're sorry to hear you had a bad experience with the headphones, and we appreciate your feedback. We'd like to look into it and find a solution that works for you. If you're interested in continuing the conversation, please contact us via our hotline: https://www.belkin.com/us/support-article?articleNum=55022 Regards, Mara Belkin Support
Not good.
[This review was collected as part of a promotion.] I buy wired headphones so that I have one less thing to charge when bicycle touring. These headphones are somehow LESS durable than Apples wired offerings. Within days of use audio started pausing with the slightest movement. Within weeks, the inline controls stopped working. I do not recommend.
Customer Support - 12 days ago
Hi, MRSeth. We want to do our best to keep your Belkin G3H0001 headphones in good shape at all times. Please contact us directly through our hotline numbers so that our phone support team can assist. You may refer to this link for our contact details: https://www.belkin.com/us/support-article?articleNum=55022. Regards, Lance Belkin Support