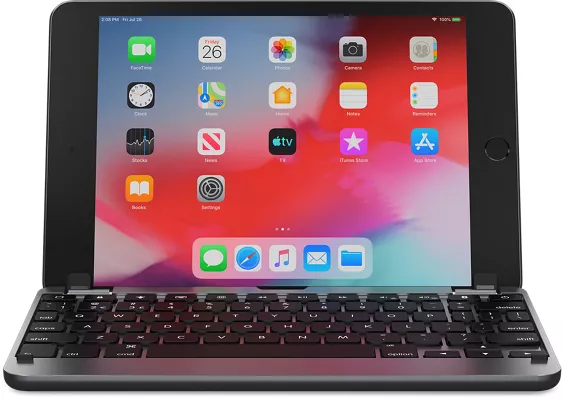 Wireless 7.9-inch Keyboard for New iPad mini is portable with a laptop-feel, perfect for use on-the-go. Work, watch videos and play games with up to 180-degree viewing angles. Connect to your New iPad mini via industry-leading Bluetooth®4.1 for a lag-free typing experience and easily power-up with a micro-USB cable.

A laptop experience.
This keyboard features a full QWERTY keypad with iOS special function keys, easy swipe-up and 3-levels of LED backlighting for improved navigating even in lowlight conditions.

Immersive design.
Light but durable, the Wireless 7.9-inch Keyboard for New iPad mini is engineered out of high-grade aluminum for durability while matching the design, quality and color of your New iPad mini.

Long-lasting power.
Enjoy up to 12 months of battery life on a single charge, based on 2-hour usee per day.* Easily rechargeable via a Micro-USB cable.

*Battery life and charge cycles vary with use, settings, and other factors; actual results will vary.
Reviews
450 reviews
of reviewers recommend this product.
Need a new version for the Mini 6!
I love this keyboard for the Mini. Easily the best for the form factor. But Apple doesn't even make the Mini 4th and 5th generation anymore. I'd love to see a new version for the Mini 6! Give it the largest keys you can. No need for a trackpad, a mouse would be better with this size. Patiently waiting for an updated keyboard Brydge!
Love this, please make a new version!
I love the size of iPad Mini + Brydge keyboard as the tiniest laptop ever. Please make one the new iPad Mini, with a pointing device! In your next iPad Mini keyboard I would LOVE to see a touchpad or other pointing device, no matter how tiny it would have to be. You could make the bottom space bar row of keys less tall (normal key height) to make room. A trackball, Thinkpad-style nub, roller, whatever kind of pointing device could fit in there is fine by me. Also please make the " key bigger, the : doesn't need to be so big, I use the " a lot more than the : character. Make both those keys the same size, split the difference. If there's any way to make the Enter key larger that would be great too. Finally please use USB-C so the same charging cable will work for the iPad and the keyboard. What would be really cool - support the keyboard acting as a battery pack to charge up the iPad over USB-C in case of emergency! Bonus points if you could support acting as a wired keyboard over USB-C. I do feel a little nervous typing sensitive passwords over Bluetooth.