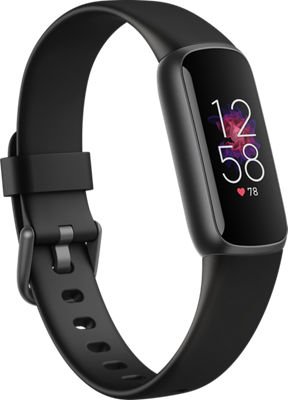 Take your fitness routine to the next level with the Luxe. The vibrant AMOLED display shows your stats and clock faces while automatically adjusting for brightness. Track your steps, distance and calories burned all day for a full view of your activity levels. Connect to your phone's GPS to see your real-time pace and distance through your workout. With up to 5 days of battery life, you can keep busy without having to worry about stopping for a charge.² Stay connected with call, text and smartphone notifications through your wearable.³ And, the slim style, stainless steel case and comfortable band go great with the rest of your wardrobe.

Designed for self-care.
Don't let stress sneak up on you - track physical signs of stress with an in-app Stress Management Score. And, you can browse mindfulness content and track trends to better take care of yourself.

Catch some z's.
Sleep is just as important to your health. Track your Sleep Score and how much light, deep and REM sleep you're getting through the Fitbit app. You can even get tips for improving sleep quality and set schedules for turning on sleep mode for your notifications.

Put your heart in it.
Track your heart rate 24/7 to maximize your exercise sessions, track resting heart rate trends and better estimate calorie burn. Manage all your data through the Health Metrics dashboard with a free 7-day trial.¹

Get in the zone.
Make every minute count. Active Zone Minutes buzz on your wrist when you've entered your personalized target heart rate zones.

Exercise modes.
Choose from 20 exercise modes to get real-time stats during your workouts. You can also let SmartTrack automatically recognize and record your exercise and you move through the day.

Menstrual health tracking.
Be prepared for that time of the month. Use the Fitbit app to track periods, record symptoms, track ovulation and more.4

Make a splash.
The Luxe is swimproof so it can easily handle the pool, beach and more.5 And, it automatically tracks how long you've been swimming.

¹Not available in select markets and not intended for medical purposes.
²Varies with use and other factors. May change based upon clock faces.
³Notifications and app alerts are available on-device when your phone is nearby.
4This feature is not intended to be used for contraceptive or other medical purposes. Fitbit does not guarantee or warrant that this feature can be used to achieve particular results. This feature may not accurately predict your menstrual cycles or related information. This feature is intended only to help users monitor and keep track of certain information. This feature is not intended to diagnose or treat any medical condition. It is intended to help you manage your well-being and keep track of your information. If you have any concerns about your health, please talk to a healthcare provider. If you believe you are experiencing a medical emergency, call emergency services.
5Water resistant to 50m.
Reviews
11 reviews
of reviewers recommend this product.
Maybe I got a dud..
This fitbit has nice features and is easy to wear but is wildly inaccurate. It keeps telling me I'm swimming, I've not been swimming lol. Unless of course folding laundry counts. I'm meeting my goals with ease which if that was accurate I'd be happy but I'm not sure it is. I'm just a mom that seldom gets to the gym and it's telling me I'm doing cardio everyday. Also, my readiness to workout is always at a 1 out of 100. How is that even possible? Every day is a no go, and I should probably just stretch? Idk, it's just hard to believe anything it's saying unless i manually add it in. What am I doing wrong?
nice look
Yes, I'd recommend this product.
I had to return this item it was not what I wanted it did not have the blood pressure readings