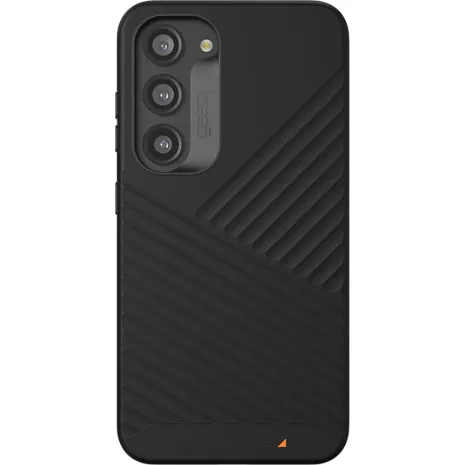 Overview tab selected 1 of 4
Overview Section Start
Protect your device while on the go with the Denali Snap Case for Galaxy S23. This sturdy case features integrated D3O® material and a reinforced backplate for up to 16 feet of drop protection.¹ The case wraps to the front of your phone for edge-to-edge protection that shields your screen. The textured finish provides a no-slip grip, making holding your phone easy. The built-in antimicrobial agent inhibits the growth of odor-causing bacteria.² And, it's compatible with magnetic accessories and chargers, as well as wireless charging compatible, so don't have to remove your case to charge your phone.

Patented protection.
D3O material provides advanced protection against knocks and drops. Specifically designed for consumer electronics, D3O is molded into the corners and edges of your case to keep your phone safe.

¹ Based on independent testing.
² Contains an antimicrobial agent with properties built-in to protect your case by inhibiting the growth of odor-causing bacteria and guarding against degradation from microorganisms.

Reviews
67% of reviewers recommend this product.
Denali Snap Case for S23
Yes, I'd recommend this product.
Protects well and not bulky
Won't Adhere Firmly to Magnet
I chose this case because of the metal backing that would allow me to use the magnetic cell phone holder for my car. It does adhere to the magnet but not firmly. If you were to brush up against it, it would easily fall off the magnetic base. In fact, it will fall off on a rough road.