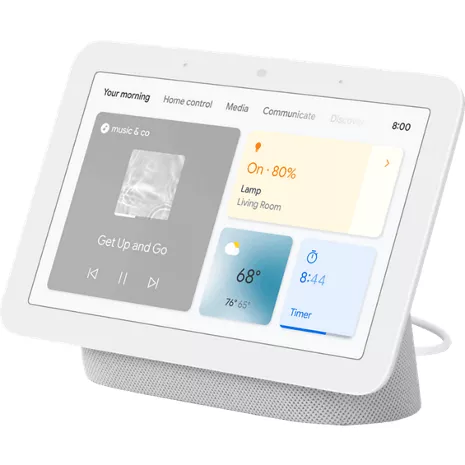 Price
$59.99
Pricing reflects 40% savings.Details
Overview tab selected 1 of 4
Overview Section Start
Meet the second-gen Nest Hub from Google,4 the center of your helpful home. With Nest Hub in the kitchen, make dinner and watch Netflix or YouTube.¹ Ask Google to show you recipes, and follow them hands-free. Play music on the enhanced speaker with YouTube Music, Spotify, and more. In the living room, Nest Hub is the one place to control your compatible lights, TVs, and other smart devices with a tap or your voice. On your bedside table, Nest Hub helps you wind down at night with soothing sounds and wake up to a Sunrise Alarm. It can even help you get a better night's sleep with Sleep Sensing.5

Coordinate your family.

Nest Hub is full of help for your busy home. See your calendar and create reminders and to-dos. Just say, "Hey Google, broadcast it's dinnertime" and everyone will hear it on your Nest speakers and displays around the house. Ask Google about the weather or almost anything. Leave quick messages you can see at a glance. And make voice calls with Google Duo.6

A better way to wake up and wind down.

With Nest Hub on your bedside table, you can fall asleep and wake up easier. The display dims to make your bedroom more sleep-friendly. From the "Your evening" page, set your alarm, control your compatible lights and other connected devices, and play soothing sounds to help you drift off. Nest Hub's Sunrise Alarm wakes you up gently, and with Motion Sense, just wave your hand to snooze.

Nest Hub respects your privacy.

At any time, you can turn off the mic with the mic switch. And easily clear your Google Assistant history whenever you want.

Thoughtfully designed, inside and out.

Nest Hub's subtle design fits any room. The display adjusts to ambient room light, so it's not too bright or too dim. It shows your best shots from Google Photos automatically, so your favorites are always in the background. And it's made with the environment in mind 54% of its plastic part material is made with recycled content.

¹Subscription services may be required for certain content.
²Compatible smart devices required. Google learns your most common music, smart home and productivity commands and responds faster over time. US only feature.
³Compatible smart devices required.
4Google Nest Hub requires a Wi-Fi network, a nearby electrical outlet and a compatible (Android, iOS) mobile device. Minimum OS requirements are available at g.co/home/req. iOS is a trademark of Cisco and is used under license.
5Sleep Sensing requires a subscription (sold separately). Sleep Sensing features are subject to your permissions and settings. They use motion, sound, and other device and sensor data to work and require placing the device close to the bed and calibrating the device for your sleeping position. Google Assistant, Google Fit and other Google apps may be required for full functionality. Google Assistant requires a Google Account. Sleep Sensing is not intended to diagnose, cure, mitigate, prevent or treat any disease or condition. Consult your healthcare professional if you have questions about your health. Device placement and nearby people, pets, or noises can cause inaccurate readings.
6To make calls with Duo, Google Duo account required for you and call recipients. Personalized results for up to 6 users require additional enrollment and setup.
Reviews
75% of reviewers recommend this product.
Eh
Yes, I'd recommend this product.
All good. Not a huge fan of the pan cam. It's not very accurate with the tracking.
wyze.com Originally posted on wyze.com
Honest review
Yes, I'd recommend this product.
The price wasn't bad the products were great cams were good everything seems fine.
wyze.com Originally posted on wyze.com