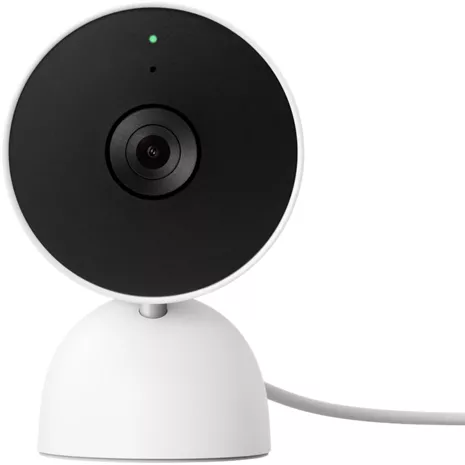 Overview tab selected 1 of 4
Overview Section Start
The indoor Nest Cam can tell you more about what's going on inside your home. It knows the difference between a person, pet, and vehicle, and can alert you about the things that matter to you, so there's no more guessing.

Better alerts, built-in.
Nest Cam has intelligent alerts built-in, for more helpful notifications. It can tell the difference between a person, pet, and vehicle, and alert you about the things that matter to you, instead of the things that don't. With an optional Nest Aware subscription, Nest Cam can even recognize familiar faces¹ and important sounds like a smoke alarm and notify you if something's wrong.

See what's happening, anytime.
With 24/7 1080p HD video, you can check in on your home from anywhere.² HDR helps you see key details in bright, high-contrast sunlight, and night vision gives you a clear image even in low light and darkness. And you can talk and listen to people in your home with the built-in speaker and mic.

Designed for any home.
Nest Cam is designed to fit in anywhere. It comes in different colors to match your style, and as a built-in stand that can also be mounted on a wall. Its hinge easily adjusts to give you the perfect angle. And Nest Cam is easy to set up with just a few quick steps.

Protects your privacy.
Nest Cam uses encrypted video, two-step verification, and enhanced security through your Google Account to help protect your privacy. And a green LED light lets you know when the camera is processing or streaming video.

Home & Away Routines give you the option of automatically turning your camera off when you're home, so no video is streamed or recorded until you leave.

¹Familiar face alerts not available on Nest Cams used in Illinois.
²Some features, including mobile notifications, remote control, video streaming, and video recording, require working internet and Wi-Fi.
³Nest Aware subscription required (sold separately).
Reviews
99% of reviewers recommend this product.
The customer service return policy at VZW is complicated and unable to resolve simple issues
The camera is great. I won several of these, the issue is the VZW shipped me the INCORRECT product and It took over 2 hours on the phone with customer service for them to NOT solve the problem.
Great for the price
Yes, I'd recommend this product.
It has a great wide angle view. I have it in the corner of my living room and I can see clear into the next room and the front door. I like the idea of being able set it to where it will automatically turn on and start recording when I leave the house with my phone