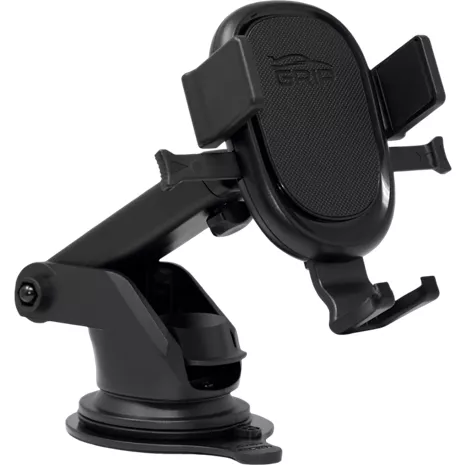 Overview tab selected 1 of 4
Overview Section Start
Prepare for adventure with the Grip All-in-1+ Wireless Charging Mount. Designed for the modern traveler, this sleek wireless charger mounts to your windshield, air vent, CD slot or dashboard for a comfortable and safe hands-free drive. The mount's expandable design and retractable legs accommodate phones up to 3.5 inches wide and 8 inches tall.

Free to roam.
It doesn't matter whether you're driving a car, RV or boat, or even if you want a convenient wireless charging pad for your desk this charging mount is designed to go where you go. You can attach this charger to your dash or windshield using the suction mount or simply clip it to the vent or the CD slot. For a more permanent, non-slip solution use the included stick-on adhesive mount. No matter where you put it you can rest assured that the charger mount securely attaches to most surfaces for hands-free, worry-free driving.

Wirelessly charge on the go or at home.
The Grip All-in-1+ Wireless Charging Mount includes a 4-foot USB-C charging cable so you can easily power up from your laptop, or use with a compatible wall charger. Also included is a Qualcomm 3.0 USB car charger for even more versatile charging options.

Ready to move.
No need to wrestle with cumbersome cords in your car. The All-in-1+ Wireless Charging Mount works with any Qi-enabled smartphone. All you have to do is place it in the clamp, and your phone begins charging immediately.

Fast charge compatible.
When you're traveling, you needn't worry about the status of your battery. The All-in-1+ Wireless Charging Mount provides 15 W of Fast Charge power to help supercharge your phone so you're ready to hit the trail when you reach your destination.
Reviews
76% of reviewers recommend this product.
Bought a GRIP Wireless charger and it does not work with my pixel 7 phone. Need I say more?
This is the 'James Bond' of wireless chargers. Fully automatic cradle and charging and will fit just about any size phone.
Yes, I'd recommend this product.
This is a must buy for any wireless hands-free driving situation. Uber and Lyft drivers need this as your phone need to be constantly charging while driving in view for directions and app functionality.