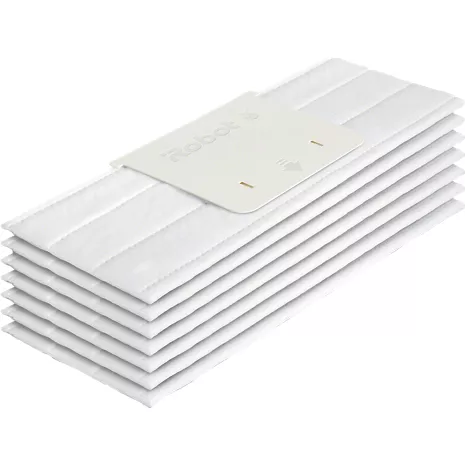 Free returns within 30 days.Details
Overview tab selected 1 of 4
Overview Section Start
Keep your floors debris-free with the Dry Sweeping Pads for Braava jet m6 Robot Mop, 7-pack. These cleaning pads use electrostatic force to capture dirt, dust and pet hair. Simply attach the pad to your robovac and the robot will automatically select the correct cleaning method. Just attach the cleaning pad and select CLEAN. Only compatible with Braava jet m Series Robot Mops.
Reviews
60% of reviewers recommend this product.
All pads only dry sweeping
I've tried ever pad and they all only dry sweeps. I haven't been able to use my braava at all been two months! I need help please
IRobotPWR - 1 year ago
Hello there, this isn't the experience we'd like you to have, and we'd love the opportunity to turn it around. We have just contacted you via e-mail in order to resolve the issue.
store.irobot.com Originally posted on store.irobot.com
I don't understand the poor design!!
You can see in the product image that these pads have three rows on them. It appears on this page that they're all made of the same microfiber material, but that is NOT the case with the pads I received. Instead, one of the rows is made of a shiny plastic that does absolutely NOTHING. It's plastic ... dust/debris/pet hair can't stick to it. So essentially only 2/3 of the pad is actually doing something. Why the heck were they made like this?!
IRobotPWR - 1 year ago
Hello Rachel! Thank for you taking the time to review our products! We can understand the expectations of performance you have for the Dry Sweeping Pads. The Dry Pad design creates electrostatic force to capture dirt, dust, and pet hair. We encourage you to reach out to our support team directly if you are seeing a reduction in performance. Our team can be reached at 1-877-855-8593. Thank you! -Sincerely, iRobot Customer Care
store.irobot.com Originally posted on store.irobot.com