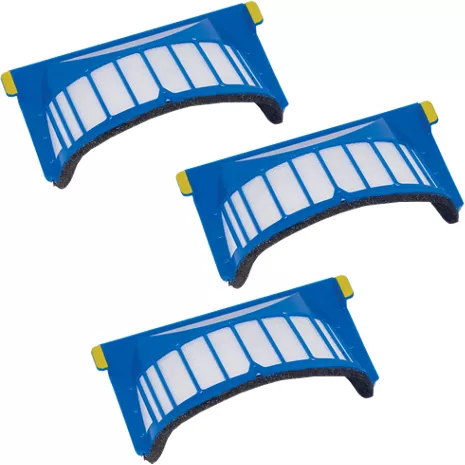 carousel with 1 slides
Free returns within 30 days.Details
Maintain your robovac with the Roomba 600 series Filters, 3-pack. These replacement filters help maintain your robot's cleaning performance by providing a fresh filter to capture fine dust and debris. They are compatible with most Roomba 500 and 600 series robots.
Reviews
75% of reviewers recommend this product.
Great investment
Yes, I'd recommend this product.
I love it i wish i brought it sooner. Im young but cannot stand for long periods of time. So this vacuum is a back saver!
store.irobot.com Originally posted on store.irobot.com
I would and did buy this product again.
retiredgrandma . 1 year ago
Yes, I'd recommend this product.
I have 2 iRobots and I love them!! Named them Rhonda and Ronnie. These robots do a fantastic job. Rhonda's job is to clean the bedroom and bathroom. Ronnie takes care of the pool room and den. This leaves me free to clean other rooms in the house so we all finish about the same time. These robots are a great invention. They do a thorough job and haven't missed a thing. I bought mine in 2020. I clean them thoroughly after each job. I gently blow the filter clean after each job, clean the brushes, and make sure the wheels are clean and no hair wrapped around the little wheel at the top. This is not hard and I believe that is why my robots do such a good job. Thank you, Roomba. I am 80 years old so you can imagine how much I appreciate the good job my Roomba's do for me.
store.irobot.com Originally posted on store.irobot.com