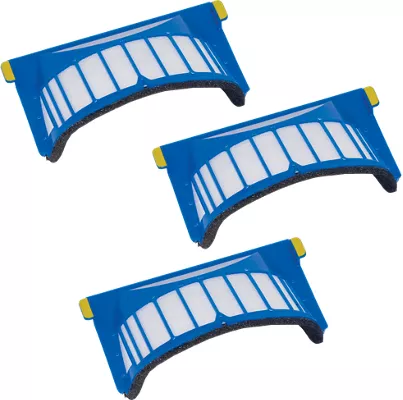 Maintain your robovac with the Roomba 600 series Filters, 3-pack. These replacement filters help maintain your robot's cleaning performance by providing a fresh filter to capture fine dust and debris. They are compatible with most Roomba 500 and 600 series robots.
Reviews
3 reviews
of reviewers recommend this product.
I would and did buy this product again.
retiredgrandma · 7 months ago
Yes, I'd recommend this product.
I have 2 iRobots and I love them!! Named them Rhonda and Ronnie. These robots do a fantastic job. Rhonda's job is to clean the bedroom and bathroom. Ronnie takes care of the pool room and den. This leaves me free to clean other rooms in the house so we all finish about the same time. These robots are a great invention. They do a thorough job and haven't missed a thing. I bought mine in 2020. I clean them thoroughly after each job. I gently blow the filter clean after each job, clean the brushes, and make sure the wheels are clean and no hair wrapped around the little wheel at the top. This is not hard and I believe that is why my robots do such a good job. Thank you, Roomba. I am 80 years old so you can imagine how much I appreciate the good job my Roomba's do for me.
Confused when ordering filters. Was going to be charged ship
Concerned about shipping charge when website states free shipping
Hi Nonr, Thank you for providing feedback on ordering accessories from iRobot. On occasion, we offer free shipping on all orders at iRobot.com. Currently, we see there is free shipping on all Robot orders placed at iRobot. While we understand this may have been confusing. Our team is always here to ensure you get the best assistance with placing your order, and obtaining and discounts that may apply. If you would like to check on this promotion, please consider contacting our sales support team at 1-800-727-9077. We would be happy to assist. Sincerely, iRobot Customer Care