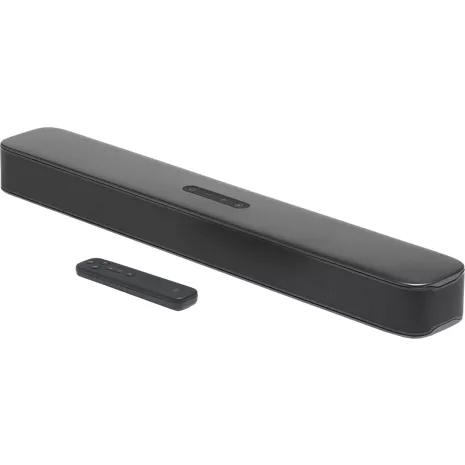 Overview tab selected 1 of 4
Overview Section Start
Enhance your home theater experience with the Bar 2.0 All-in-One Soundbar. This compact, soundbar fits neatly underneath your TV, blending in seamlessly with the rest of your home theater system. The included HDMI ARC or optical cable connection makes it super easy to set up and use your sound system. And, the included remote control makes it easy to turn adjust the volume from anywhere in the room.

Movie theater-quality sound.
Built-in Dolby Digital creates an authentic cinema experience in the comfort of your own home. Combined with deep bass and JBL Surround Sound, you can immerse yourself in your favorite movie with ease.

Tune in.
The Bar 2.0 All-in-One Soundbar enhances more than just movies. Use the Bluetooth connection to stream your favorite playlist for an impromptu dance party or relaxing background music.
Reviews
75% of reviewers recommend this product.
Directions poor! Inadequate!
Won't work with current Samsung tv direction suck hard to follow!
Let down
I bought this sound bar a month ago and I do not like the sound it gives, I can't even tell it is on, when in fact it see. Every day I have to unplug it and restart or it will not turn on. Very disappointed in this product.
Customer Support - 3 months ago
Thank you for bringing this to our attention. Please note the soundbar should automatically power on once it receives a signal from the TV just make sure to turn the source device 1st before the soundbar. If you are experiencing the same issue, we'd like to work with you directly to address the issues you're experiencing with your Bar 2.0 All-in-One If needed, we'd also like to get more information so we can check your options. Please contact our customer support service via our official website or toll-free hotline.
jbl.com Originally posted on jbl.com