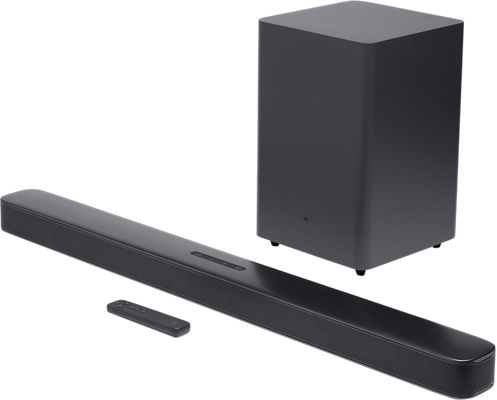 Create a theater-like experience from the comfort of your own home with the Bar 2.1 Deep Bass Soundbar. This 2-in-1 soundbar and subwoofer set fills the room with sound with up to 300W of total system power. JBL Surround Sound and built-in Dolby Digital immerse you in whatever you're watching for an authentic cinema experience. The 6.5-inch subwoofer delivers deep, thrilling bass that you can feel. Stream all your favorite songs and movies from your phone or tablet with ease. And, the simple setup with an HDMI or optical cable means you can start listening in no time.
Reviews
151 reviews
of reviewers recommend this product.
Good sound, but keeps interrupting the audio...
Good sound quality, for the money. But useless, since it keeps interrupting the audio every time the input volume is low, even when connected via OPTICAL. So on certain videos I lose the first 1..2seconds from every sentence. Extremely annoying and makes it unusable. Also official MCU 48 firmware update did not solve anything. So the same problem everyone is having.
Chas at Customer Support - 2 months ago
We're here to help with your JBL Bar 2.1. Please try resetting the audio settings by doing a press and hold on the SOUND button on the remote control for 5 seconds. Please check if this is happening to certain shows, or try checking for different audio levels. If you need more help, please reach out to our Customer Support so we assist you with other steps.
Best Soundbar
Yes, I'd recommend this product.
The best purchase I have made in awhile. Beautiful sound quality and the bass is fire.