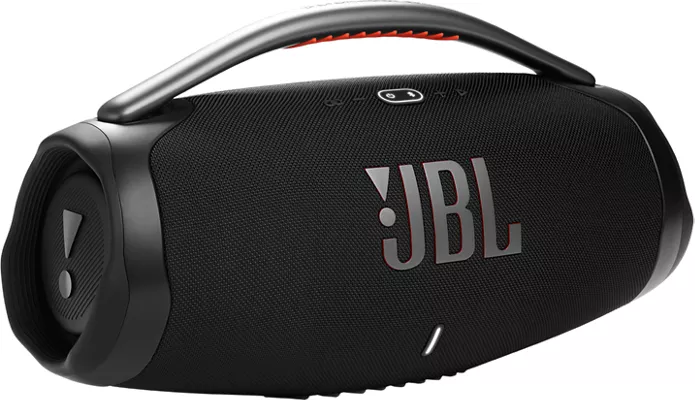 Pump up the volume with the Boombox 3 Portable Speaker. This wireless Bluetooth® speaker can connect up to 2 smartphones or tablets to the speaker and can take turns playing favorite songs. The 3-way speakers deliver sharp clarity while lowering distortion for a wide range of sound. The strong, bold design with twin sidecaps and a sturdy metal handle make it easy to take your music anywhere. The IP67 dust and waterproof rating make it a great option for being in the great outdoors.¹ And, with up to 24 hours of battery life, it's designed to keep up with your longest playlists.²

PartyBoost.
Pair 2 JBL PartyBoost-compatible speakers together for stereo sound. You can even link multiple speakers for a full, immersive sound.

Go further with the app.
Use the JBL Portable app to get the most out of your speaker. Customize settings, unlock features and get real-time updates so you can always listen to your music your way.

Eco-friendly packaging.
Designed to be sustainable, the Boombox 3 comes in a recyclable paper box, including the inner tray, and the exterior is printed with soy ink.

¹ IP67 waterproof rating. Can be immersed in water up to 1m for up to 30 minutes.
² Battery life and charge cycles vary with use, settings, and other factors; actual results will vary.

Reviews
32 reviews
of reviewers recommend this product.
Yes, I'd recommend this product.
One thing ruins all good impression
The speaker is good in sound - I previously owned HK Go&Play and this one sounds not a bit less beautiful. However there is one thing that Extremely Ruins the experience! When you listen via cable and your music track is in low volume, the speaker goes to what can best be described as "sleep" almost immediately - 5-10 seconds. And then it requires a higher volume than before to "wake up" and start playing again, and it also takes time. I can't even describe how irritating is that when you are listening to a classical music track - they very often have long loud and almost silent periods, so you just started to listen and then in the middle of the song - voila, your speaker just stops playing because it considered your track not loud enough - but it was loud enough for you to hear! Or one more case from my life - when you decide to practice your guitar and connect boombox 3 to a guitar pedal. One second you played a chord then spent few seconds adjusting your fingers to a new one - and the chord is simply not sounding because the speaker went to sleep during that pause, so you need to play something for next ~5-6 seconds before you start to hear what you are playing again. The described behavior is not present when you connect via bluetooth not via cable, but for cable I can describe it with only one word - AWFUL! Don't buy it if you plan to listen via cable! JBL, this _needs_ to be fixed! Few minutes of battery life or some silent noise whispering in the background are not worth the loss of continuous playback. This "sleep" interruptions are awful!
Customer Support - 19 days ago
We appreciate your time for providing us your feedback with our JBL Boombox 3. We're sorry to hear that it didn't meet your expectations. We're always looking for ways to improve and we'll make sure to share your feedback with the appropriate team. If you have any questions or concerns about your device, feel free to contact our customer support for further assistance