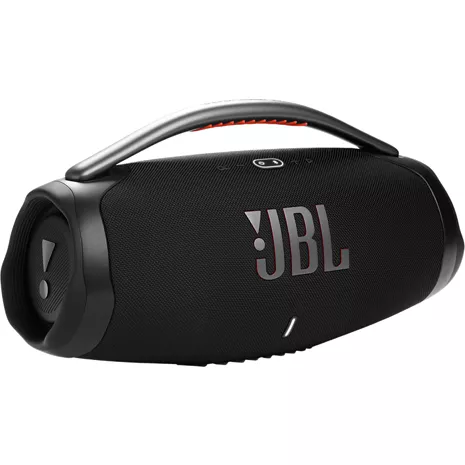 Free returns within 30 days.Details
Overview tab selected 1 of 4
Overview Section Start
Pump up the volume with the Boombox 3 Portable Speaker. This wireless Bluetooth® speaker can connect up to 2 smartphones or tablets to the speaker and can take turns playing favorite songs. The 3-way speakers deliver sharp clarity while lowering distortion for a wide range of sound. The strong, bold design with twin sidecaps and a sturdy metal handle make it easy to take your music anywhere. The IP67 dust and waterproof rating make it a great option for being in the great outdoors.¹ And, with up to 24 hours of battery life, it's designed to keep up with your longest playlists.²

PartyBoost.
Pair 2 JBL PartyBoost-compatible speakers together for stereo sound. You can even link multiple speakers for a full, immersive sound.

Go further with the app.
Use the JBL Portable app to get the most out of your speaker. Customize settings, unlock features and get real-time updates so you can always listen to your music your way.

Eco-friendly packaging.
Designed to be sustainable, the Boombox 3 comes in a recyclable paper box, including the inner tray, and the exterior is printed with soy ink.

¹ IP67 waterproof rating. Can be immersed in water up to 1m for up to 30 minutes.
² Battery life and charge cycles vary with use, settings, and other factors; actual results will vary.

Reviews
100% of reviewers recommend this product.
Seems refurbished
Radio not what I expected. Not as loud as boombox 2 and battery life nowhere near as advertised. Sorry I bought it
Customer Support - 16 days ago
Thanks for sharing your feedback on our JBL Boombox 3. We value your input, and we'll make sure to forward your feedback to the appropriate team. Our JBL Boombox 2 has an output power of 2x40 W RMS-woofer + 2x40 W RMS-tweeter and a maximum music playing time of 24 hours while our JBL Boombox 3 has an output power of 1x80W RMS-subwoofer + 2x40W RMS-midrange + 2x10W RMS-tweeter (AC mode) 1x60W RMS-subwoofer + 2x30W RMS-midrange + 2x8W RMS-tweeter and has a maximum music playing time of 24 hours. This may vary depending on volume and music content. If the speaker doesn't meet the advertised playtime hours even at low to mid-volume levels, there could be a problem with the battery of the unit. We'd like to work with you directly to address the issues you're experiencing with your JBL Boombox 3. If needed, we'd also like to get more information to check your options. Please contact our customer support service via our official website or toll-free hotline.
jbl.com Originally posted on jbl.com
Battery light needs improvement
I've been using my new Boombox 3 for 4 months now. It sounds great! The battery only lasts 6 hours on max volume. It last about 12 hours on 3/4 volume and 18 hours on half volume. Here's three massive improvements that are required, in my opinion. 1. Make the bottom flat all the way from end to end and widen the bottom so that it is more stable. It rolls around all the time. If you even slightly bump it, it becomes a rolling pin. 2. Put the LED battery/charging light on top of the unit by the on/off button and volume buttons. Why did you think it was a good idea to put it on the bottom of the speaker where you can't see it? 3. Make the LED battery/charging light a digital readout. Level 0 through 10. You have a limited idea of how much battery life is left until the light bar turns red. At that point you're down to 15 minutes to an hour left of play time depending on the volume you're at. That's also providing you pick it up and check the light periodically.
Customer Support - 1 month ago
Thanks for taking the time to provide feedback on our JBL Boombox 3. We appreciate your feedback, and we value your input on our product. We are dedicated to consistently improving our product and providing an exceptional user experience. We'll make sure to share your feedback with the appropriate team.
jbl.com Originally posted on jbl.com