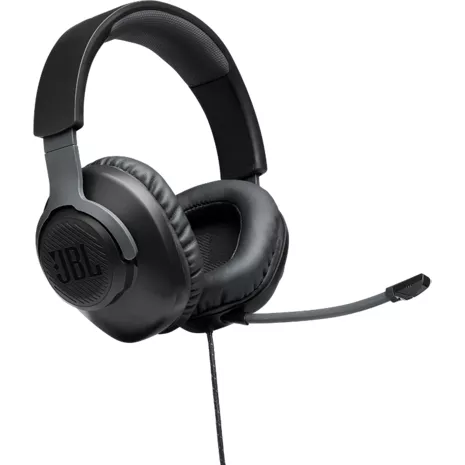 Take work calls with ease with the JBL FREE WFH Headset. This lightweight and durable headset is designed for long workdays so you are comfortable when taking calls. Powerful JBL Signature Sound is delivered by 40mm drivers for clear calls and music. The detachable boom mic is designed to focus on your voice and has noise-canceling to eliminate unwanted noise. And, it's both PC and mobile compatible so you can be heard clearly even when on the go.

Chat app compatibility.
Hear and be heard, no matter your chat app of choice. The JBL FREE WFH Headset works with Zoom, Cisco, WebEx, GoToMeeting, Skype or Microsoft Teams.
Reviews
33% of reviewers recommend this product.
Good speakers, bad mic sssss
Pros: Good sound quality Fairly cheap for nice, comfortable, over-ear headphones Cons: Mic quality is not very good Mic tends to be easily tugged on when adjusting, pulling it out of its plugin. I personally am not a fan because I bought these headphones to game
Can't get these to work. sssss
eddlover2004 . 4 months ago
Just got these 4 days ago and I can not hear anything out of them. I put an extension on them and have to move the cord around to get a sound. I'm thinking these new things have a short in them. So I just got another extension in the mail and they still don't work. What am I doing wrong?
Customer Support - 4 months ago
Thank you for taking the time to provide us with your feedback. We'd like to know where you've got your headphones plugged in. Is it via PC with a 2.4G dongle? In addition, what is the LED behavior of your headphones and dongle? We'd like to work with you directly to address the issues you're experiencing with your JBL Free WFH. If needed, we'd also like to get more information so we can check your options. Please contact our customer support service via our official website or toll-free hotline.