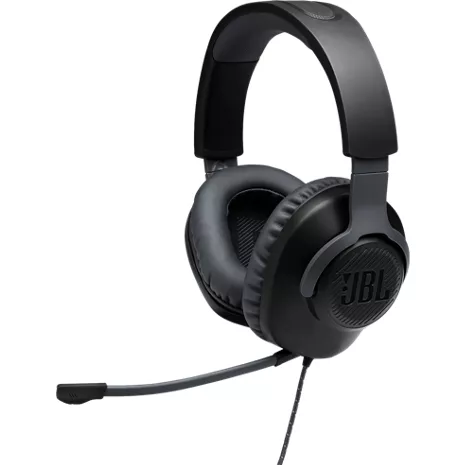 Drop in to your favorite video game with the Quantum 100 Wired Over-Ear Gaming Headset. This lightweight headband with memory foam ear cushions is comfortable to wear through hours of competitive gaming. JBL QuantumSOUND Signature provides an immersive audio experience, from the softest footsteps to the loudest explosions.

Rally the troops.
The detachable, voice focus directional boom microphone targets your voice so every command is crystal clear. It also comes with mute features right on your headset.

Built for your favorite platforms.
Have high-quality sound, no matter where you play. This gaming headset is compatible with PC gaming, Xbox, PlayStation, Nintendo Switch, Mobile, Mac and VR.

Works with your surround sound.
The Quantum 100 is fully compatible with Windows Sonic Spatial Sound, the native surround sound in Windows 10 PCs and Xbox ONE consoles.
Reviews
74% of reviewers recommend this product.
Nice Headset, Could Be Better sssss
Overall Nice Sounding Headset, Well Balanced. But 4 Stars cuz The Lightweight Plastic seems weak, and make its feel cheap. Might Break If Accidentally Sat on.
Cracks appearing after a month sssss
I bought this a month ago, Dec 26th to be exact. It arrived December 27, I've been using it for a month as my main headset and about a week ago, I noticed a crack on the right hinge. Today (2/1/23) the crack got worse and now my right ear cup doesn't seal and it feels loose on my head. In fairness to the product, the headset always felt a little tight on my head and the detachable mic sounds great. Still disappointed that the headset didn't last me longer.
Customer Support - 1 month ago
We appreciate you taking the time to provide us with your feedback on our JBL Quantum 100. We're always looking for ways to improve. We'll make sure to share your feedback with the appropriate team. If you have any questions or concerns about your device, please contact our Customer Support.