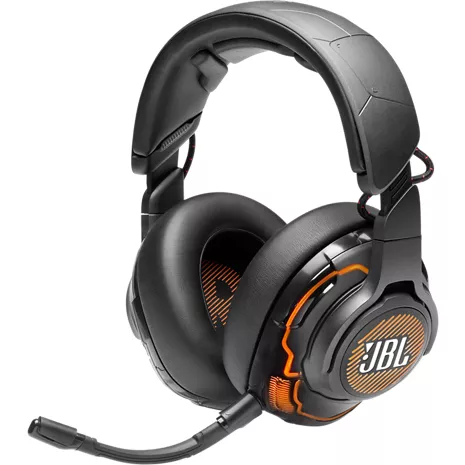 Overview tab selected 1 of 4
Overview Section Start
Level up your gaming experience with the Quantum ONE Headphones. The lightweight headband features a ventilating leather-wrapped design with memory foam ear cushions for long-term gaming sessions. And, it works with both USB and 3.5mm headphone jacks so it works well with your system.

Immerse yourself in the game.
With professional-level 3D-audio positioning, you can create a custom soundscape that keeps you immersed in the game. JBL QuantumSPHERE™ combines JBL's algorithm with an integrated head-tracking sensor and by-pack mic for optimal sound.

Signature quality sound.
Hi-res certified 50mm neodymium drivers create a sound cover tuned by JBL's audiologists specifically for gaming. JBL QuatnumSOUND Signature puts you at the center of the game for a competitive edge.

Active Noise-Canceling.
Drown out the rest of the world and focus on the game. Active Noise-Canceling eliminates unwanted background noise and is designed especially for gaming environments.

Seamlessly compatible.
The Quantum ONE is designed for use with most systems, including PC, PlayStation, Xbox, Nintendo Switch, Mobile, Mac and VR. Check the connectivity guide for further compatibility.

Rally the troops.
The detachable boom mic with echo-canceling technology makes sure you're clearly heard at all times. There's a mute button built into the earcup if you need to go dark.

Audio-chat balance dial.
Balance out the audio between the game and your team. The DISCORD Certified audio-chat balance dial allows you to immerse yourself in-game, but still hear what's going on in chat.

A full suite of customization.
JBL QuantumENGINE PC software allows you to manage and personalize your gaming headset from a user-friendly dashboard. Create user profiles, modify microphone settings activate RGB effects from one convenient portal.
Reviews
90% of reviewers recommend this product.
The audio boom cable breaks really easily and they don't sell replacements in the us which makes it incredibly difficult to find a cable that works for the headset other wise it a good headset should be 100$ since it's listed 113$ on amazon
Remove the knob
Whoever designed the unbelievably annoying knob that adjusts something with audio should be fired. It is an amazing headset in every conceivable way but why would anyone in their right mind think that adding that dumb knob was okay. It effectively cuts the wires' range in half since you can feel it dragging around whenever you need to move slightly.
Customer Support - 3 months ago
Thanks for your feedback on our JBL Quantum ONE. We're looking for ways to improve, and we'll make sure to submit your feedback to the appropriate team. If you need further assistance with your unit, please contact JBL Customer Support.
jbl.com Originally posted on jbl.com