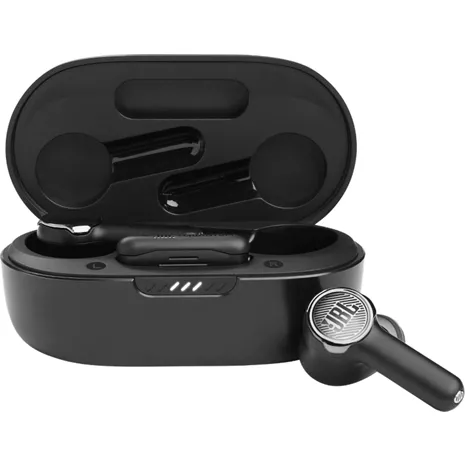 Overview tab selected 1 of 4
Overview Section Start
Immerse yourself in your favorite game with the JBL Quantum TWS Earbuds. Designed with JBL QuantumSURROUND, you can feel like you've stepped into the game, leveling up your experience.¹ Low latency 2.4GHz connection comes with a USB-C dongle that fits snugly in the charging case. 6 beamforming microphones focus on your voice so that you can be heard. The lightweight design is made for gaming on the go, with a durable IPX4 water-resistant rating.² And, if you need an assist, you can tap to talk to your Google Assistant or Alexa while out and about.

Fast Pair and JBL Dual Source.
Don't miss a call. Easily transfer between your phone and your gaming console with JBL Dual Source. And, your devices pair quickly so you can jump right into the game.

Adaptive Noise Cancelling.
True Adaptive Noise Cancelling filters out background noise so that you can keep your head in the game. Or, use Ambient Aware to hear your game, but also pay attention to what's going on around you.

Long-lasting battery.
The Quantum Wireless Headphones hold up to 8 hours of battery life on a single charge.3 And, with up to an additional 16 hours in the charging case, you can top up your headphones and keep playing.³

Go further with JBL Quantum software.
Take full control of your listening experience. The headphones are compatible with both JBL Quantum PC software like JBL QuantumENGINE and JBL Headphones App.

¹ JBL QuantumSURROUND is only available on PC in combination with JBL QuantumENGINE software. Check connectivity guide for compatibility.
² IPX4: Withstands splashing water. Do not submerge.
³ Battery life and charge cycles vary with use, settings, and other factors; actual results will vary.
Reviews
96% of reviewers recommend this product.
Classic JBL Sound Quality!
Civil4life . 3 months ago
These headphones have amazing sound for their size! Wireless USB-C dongle works great as well! It's nice that when I'm connected to my laptop via the dongle and someone calls my phone, the headphones will jump over to Bluetooth on my phone. However, it will not work the other way around. If connected to the dongle on my laptop and I make an outgoing call on my phone, the headset will not switch over to Bluetooth requiring me to take out the earbuds and put the phone up to my ear. The Ear Canal Test never works, which I can understand with the way my ears are, but from reading other reviews, I don't this test works very often no matter what type of ear. As for the fit, my ear are the worst when it comes to earbuds. I have bought many different brand, sizes, and types and none of them would stay in my ears, including these! Very frustrating! So for these, I bought some memory foam tips to replace the ones that came with the earbuds along with some universal inner ear hooks. With these upgrades, I can run, do yard work and shake my head vigorously and the earbuds will remain in place! The noise cancelling is OK for this price range. The ambient sound control and talk through features are a nice touch. Both the JBL mobile app and desktop app have great features that allow you to monitor the status of the earbuds and case as well as the ability to customize the EQ, Ambient sound control levels, and a few other features. The only downside is the battery life is horrendous! This is the only reason I gave them 4 stars. I can get maybe 3 hours out them which sucks because I work long hours on the computer and like to listen to music to help establish the required pace of productivity.
jbl.com Originally posted on jbl.com
POOR
trumpbiden . 3 months ago
I am a packaging artist. Thats my job thats my career. JBL should be ashamed in 2023 for sending such a small item in a convaluted set of boxes, with manuals that the type is so small you'll need sherlock holmes to help. Just look at apple for direction. How come with apple u just simple take it out the box put in your ears and viola!!!!!!
Customer Support - 3 months ago
Thank you for taking the time to provide us with your feedback. We are sorry to hear that our product didn't meet your expectations. We're always looking for ways to improve. We'll make sure to submit your feedback to the appropriate department.
jbl.com Originally posted on jbl.com