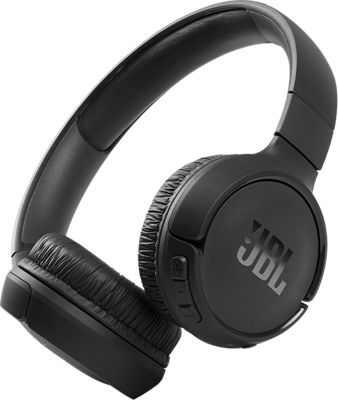 Immerse yourself in your favorite tunes with the Tune 510BT Headphones. These lightweight, comfortable headphones feature JBL Pure Bass Sound for a high-quality listening experience. The multi-point Bluetooth® connection allows you to effortlessly switch between devices so you never miss a call. And, with help from your voice assistant, you can easily take hands-free calls or control them with the buttons on your earcup.

Long lasting battery.
Outlast even your longest playlist with up to 40 hours of battery life.¹ And, if you need a quick charge, you can get up to 2 hours of battery life in 5 minutes.¹

¹ Battery life and charge cycles vary with use, settings, and other factors; actual results will vary.
Reviews
65 reviews
of reviewers recommend this product.
Not Worth the HEADACHE
Very disappointed in these headphones. Got them for working out and studying. They worked great for the first month. The moment they died it was never the same. They can charge for Five minutes or 24 hours and they wont turn on. Went online to see what to do. Seemed to fix, the next day wouldn't turn on fully charged. This happened for like a week straight mind you i've only had them for a month and used them maybe 10 to 20 times for about an hour each time. So then I just let them sit until this week when I needed to study. Worked well for about 2 hours then it just stopped . It wont pair to my phone computer nothing. I can hear the sound of the volume button going up but thats it. I WOULD NOT get these its too much of a headache for 50 dollar headphones. Sad part is used to have a pair of the ones with the cord for years while I dj'd and they were great ! I wore them till they actually broke in half. so I am very disappointed in these.
Customer Support - 6 days ago
Please do a forced power cycle for your JBL Tune 510BT. First, make sure that your product is not connected to a power supply or charger. Next, hold down the power button for 30 seconds. Note that our products come with a 1-year warranty. If you need more help, please contact our Customer Support https://support.jbl.com/us/en/.
Question
I have a question can you use an audio cable for these headphones and if yes what type of audio cable I might be getting these headphones soon that is why I am asking.
Customer Support - 2 months ago
Thanks for your inquiry. Our JBL Tune 510BT is a pure wireless headphone and doesn't come with a 3.5 mm aux cable for wired connection. We recommend the Tune 660NC can be connected via a 3.5mm aux cable as well as Bluetooth.