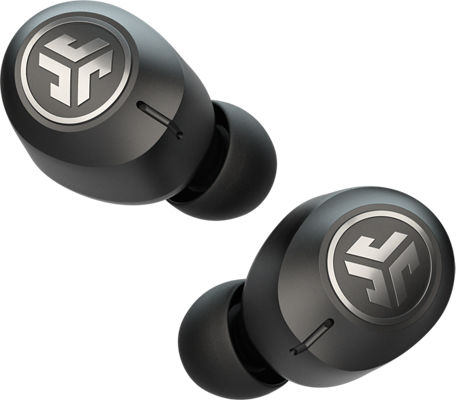 Immerse yourself in your favorite tunes with the JBuds Air ANC True Wireless Earbuds. These compact, comfortable Bluetooth® earbuds feature Smart Active Noise Cancellation so you can drown out the background noise and focus on the music. 3 EQ sound settings allow you to customize your listening experience. Super-low latency movie mode ensures your sound and picture are synchronized. Listen through a single earbud or both for the same sound with Dual Connect. Touch sensors allow you to skip, play and pause with ease. With up to 40 hours of playtime, your battery will outlast your longest playlist.¹ And, with an IP55 sweat and water-resistant rating, your wireless earbuds can stand up to your toughest workout.²

¹Battery life and charge cycles vary with use, settings, and other factors; actual results will vary.
²IP55-rated. Protection against limited dust ingress and from low-pressure water jets from any direction.
Reviews
359 reviews
of reviewers recommend this product.
Best EarBuds I've Ever Owned
I've gone through a few different earbuds over the last couple of years. These are by far the best earbuds I've ever experienced. The sound quality is great; very versatile between different types of music and audiobooks. This is the first time I've experienced earbuds that have actual bass. I didn't even know that was possible. The touch controls are such a relief from the previous ones I've owned that used a button. Each time I'd need to push the button I'd end up painfully pushing the earbud into my ear. The fit is great, stays in, locks into my ear with out issue. Love the noise canceling. Helps me focus on my work. Also seems to help protect my ears when doing yard work. Last but not least, I don't understand how they achieved this battery power capacity, although the case holder is a bit bulky. I was on a two week vacation, 7 hour flight. I used them for 3-4 hours on my flight both ways. I used them while exploring a couple cities. I used them ~1 hour every morning for podcasts. I did not need to recharge the case the entire time.
Excellent for work, home, & everywhere in between
After buying JLab Go Air Pop on a road trip, I began realizing the benefits of being able to use just one earbud. I purchased these ANC earbuds directly from JLabs upon returning home, and love them. When wearing both earbuds, I can switch from noise cancelling, to better hear music or podcasts or audiobooks or to help me focus on a task, to "be aware," and pause/resume, to converse with colleagues at work or family at home. I can set "be aware" mode, then return one earbud to the case, keeping music on without disrupting others or cutting myself off from what's around me. While I don't wear them when driving, they are very nice to use when a passenger in a vehicle. Music can help keep me calm or focused, but headphones or earbuds can serve as a sign to others that I am unwilling to communicate, so having a more discreet option is sometimes helpful, and has improved some people's attitudes toward me. When I need to really tune out distractions and be productive, I can do that by putting in both earbuds and setting them to ANC with a tap or two. If I want it to be obvious to coworkers that I can't hear them, so they are less likely to interrupt, I wear a cheap pair of headphones over the earbuds, and tuck the plug into a pocket or drawer. The sound from these JLab ANC earbuds is much better than the headphones, and the noise reduction is a daily benefit.