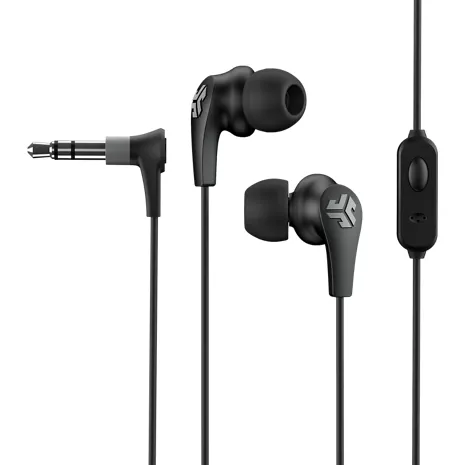 The Pro Signature Earbuds deliver superior sound quality in a sleek, durable design. Cush Fin Technology and multiple gel tips bring more comfort and an even better fit for listening. Track controls allow for effortless navigation between songs and a universal mic makes talking on-the-go easy. Durable and slim, these earbuds can accompany you anywhere from a walk in the park to an intense workout.

Custom fitting.
Fine-tune how your earbuds fit with Adjustable Tip Placement. Choose from a relaxed to a sound-sealing fit.

Next level comfort.
The ultra-lightweight design has an improved ergonomic shape that maximizes comfort. The 45-degree angle creates a comfortable fit made for your ear.

Premium sound quality.
High-performance 10mm drivers distribute crisp sound while noise-reduction keeps you focused on the music.
Reviews
13% of reviewers recommend this product.
Comfy Wired Buds sssss
I need wired buds for a few older devices, and I also find the time lag with wireless just too long for phone conversations. My ear conch and canal are narrow and deep so fit is a real problem. The hard plastic part of most buds rub the sides well before the soft eartip seats. S,M,L doesn't matter -- it's a DEPTH issue. I mostly use M, but switch up occasionally as the soft silicone gets stretchy with long use. These work!!! I'm now on my 4th set of these JBud Pro Wired Buds! I think the previous 3 all lasted at least 2ish years (the warranty period.) They really have a comfy fit (wish there was a 3rd notch to slide them deeper, actually!) The fins keep them seated without irritating. The dynamic range is pretty good for voice, audio books, etc. which is my primary use. (Most inexpensive buds seem too bass heavy for good voice clarity.) I use them for hours a day, and while I try to be gentle with them, eventually they tend to have a wire break near one or the other earpiece. That's my only complaint -- make the wires into the earpiece more secure/ stronger!
Tangle-resistant quality purchase sssss
Yes, I'd recommend this product.
Great value, good quality, love the "tangle-resistant" flat cables.