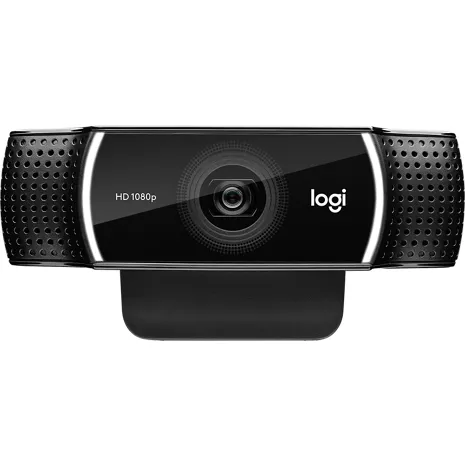 Overview tab selected 1 of 4
Overview Section Start
Stream and record video with ease with the C922 Pro Stream Webcam. This high-definition 1080p webcam provides premium quality video when you broadcast, minimizing lag and distortion. With high-definition video in any environment, you can ensure that you'll be seen clearly. Capture stereo audio from every angle with the 2 omnidirectional mics for clear, no-drop streaming and recorded video. Advanced Capture Software makes it easy to create and share video content. And, the fully adjustable tabletop tripod extends to 18.5 cm making it easy to find the best angle.
Reviews
50% of reviewers recommend this product.
Great camera
Zoom ready . 5 months ago
Yes, I'd recommend this product.
I have used this camera for Zoom calls since the start of Covid. Glad I was able to find as they were selling out everywhere. Sunlight or poor room lighting play a big part in image quality so of this you should be aware. My only wish is that it came with a closure (I had to buy separately and a removeable light attachment.
Poor picture color quality.
It has autofocus and high enough definition to stream clearly so I'll give it two stars but that's generous considering the color scheme makes it look like you have blotchy red skin all the time. I could get it to go away with controls or lighting. I don't know if I'll ever use it except as a backup. For $100, not worth it at all. For $20, maybe.
Logitech - 4 months ago
We're sorry to hear that and this is not the experience we want you to have. We'd recommend you to get in touch with Logi support team and check for the best possible option in this case.