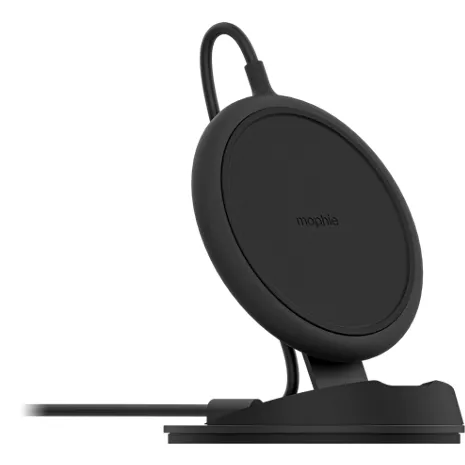 This item is currently only available for In-Store Pickup. 
Select a store to continue.
Free returns within 30 days.Details
Get it fast
Select shipping options at checkout. Subject to eligibility.Details
Fuel up your smartphone without the extra wires. The mophie® charge stream Convertible Stand lets you pick the angle that works best for you. Stand your phone up at a landscape or portrait orientation. Or lay the stand flat and use it as a charging pad. This universal wireless charging stand delivers up to a 10 W charge is compatible with Apple, Google and Samsung Fast Charge. Just place your phone down to start refueling on contact the mophie charge stream Convertible stand even works through lightweight phone cases up to 3 millimeters thick.
Reviews
0% of reviewers recommend this product.
Looks cool but doesn't work as expected
I ordered this wireless charger with my iPhone 12 Pro Max purchase. Out the box, the charger looks nice, can be converted from laying flat to propping up my phone. It also feels solid and heavy and I have no doubt it will stay in place and support the weight of my phone. The cord length is good and comes with the wall plug. However, this charger is very inconsistent at charging my devices. I can put my phone in the same spot and sometimes it will charge, other times it won't. I've even tried removing my phone case and testing other devices and find the same issue. I would not purchase this model again.
Would not work on my Moto Z4
I ordered this over the phone. They said it would charge my new phone. I just checked on the site and it said it would. Well it didn't at all. Will be sending back tomorrow. Buyers beware