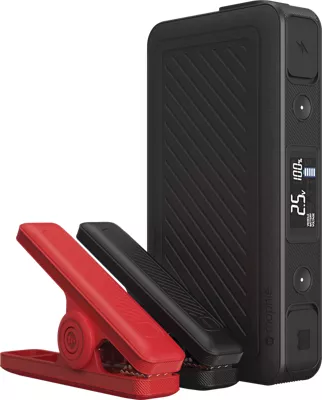 Jumpstart both your devices and your car with the powerstation go rugged AC. This 1500mAh portable battery features high-capacity battery cells to keep your devices charged. Charge up to 3 devices simultaneously with the 2 USB-A ports and a 65W AC power port. The rugged exterior protects the powerstation go rugged AC from bumps and falls. And, the convenient LED flood light features an SOS feature and a high-visibility redlight so you ll be seen and can be seen when you re in trouble.

Ready for emergencies.
Jumpstart your car with the powerstation go rugged AC. It works with full-sized trucks and 2V vehicle batteries in seconds.¹ And, the spark-proof jumper cables are designed for safety.

¹Including 4/6/8cyl vehicles up to 7.0L gas and 4.5L diesel boats, ATVs, lawnmowers, motorcycles, etc.
Reviews
19 reviews
of reviewers recommend this product.
Not geared for cranking Amps
Recently purchased this item to keep in vehicle in case I had battery issues. Had an opportunity to utilize this device to crank a lawnmower that had a dead battery. I made several attempts to crank with no luck. I was successful in turning over the motor once but that was it. I ended up using my father-in-laws power station, of a different make, to crank the lawnmower. Guess I will use this device to charge phones, etc. when camping in remote areas. Expensive charger.
Potent, reliable, effective, and compact
I didn't own this long before needing it for a car whose alternator started to fail. I had to jump my 20 year old 8-cylinder car about a dozen times over a few days. Each and every time it was quick and easy to get connected and get started. And after all those jump starts there was still nearly 90% power left in it. I am pleased and impressed with this product. I look forward to seeing how long this retains a charge. Highly recommended.