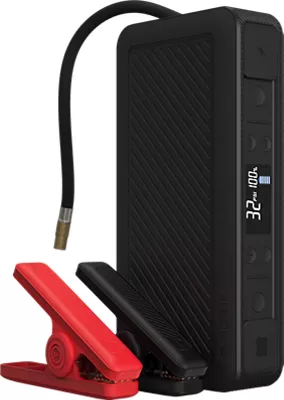 Stay prepared in the face of emergencies with the powerstation go rugged with air compressor. This portable battery can charge up to 2 USB-A devices with built-in power ports. Designed for emergencies, the powerstation go delivers up to 1200 amps, so you can easily jump a full-sized truck or a 12V vehicle battery. The jumper cables are even included. The included air compressor features interchangeable nozzles and an adjustable pressure setting so you always get the pressure level you need. And, there's a bright LED floodlight so you can see and be seen.
Reviews
56 reviews
of reviewers recommend this product.
The Utility Tech Tool every car needs
Matthew N. · 8 months ago
So multi faceted and immediately useful. I was able to charge a friends Subaru in the first couple days. I utilized the light function while loading my truck for a cross country Tripp, immensely helpful. When the weather changes and I'll have to adjust the air in my wife's car tires, I can't wait to put the pump to use and not have to figure out which gas station air pump is working today.
Compact and powerful
Stephen M. · 8 months ago
I love having a small powerful air compressor without having to plug it into a cigarette lighter. I haven't used the jump start feature, but I'm sure it will do the job.