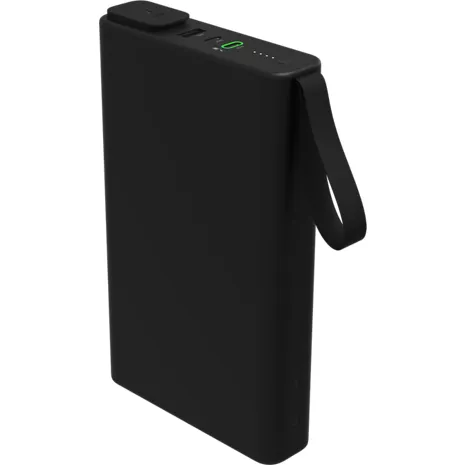 Overview tab selected 1 of 4
Overview Section Start
Keep your devices charged while on the go with the powerstation pro AC. Made with a 27,000 mAh internal battery, this powerhouse battery pack can charge up to 4 devices at once. The 2 USB-C ports, a USB-A port and an AC port provide up to 140W of combined power to keep you moving through your day.¹ The powerstation pro AC holds up to 5 full phone charges for powering your devices on the go.² The versatile USB-C PD port can both charge your phone or charge the powerstation. And, the 4-light LED power indicator displays charging status and current battery life.

Powerhouse delivery.
The up to 60W USB-C PD Fast Charge can power your phone to up to 50% in 30 minutes.³ And, the 100W AC output can power larger devices like your laptop while on the go.

¹ 140W Maximum Shared Output.: AC up to 100W, USB-C PD #1 up to 60W, USB-C PD #2 up to 20W, USB-A up to 20W. Actual output and charge speed will vary by the number of ports used simultaneously from 20W-130W.
² Number of charges are estimates based on wired charging, using a fully charged pre-production powerstation pro AC to charge an iPhone 13 Pro in default settings from 0-100%. Results will vary based on environmental factors, device settings and individual usage.
³ Based on a 30-minute charge from 0% on an iPhone 13 Pro using a Power Deliver (PD) charger and an Apple USB-C to Lightning cable versus a 5W in-box charger.

Reviews
0% of reviewers recommend this product.
Very expensive and lacking in quality
I purchased this about 3 months ago and honestly am regetting it now. It was awesone at first, but a few weeks ago the two 20w output ports stopped functioning, the USB and USB C. I figure it's only a matter of time before the other ones stop working rendering it completely useless. If not for that.... this would have been perfect to keep on hand at work... and I actually purchased two of these for that purpose. I really expected more for the price.
POWER
Really nice piece of work, no more dead phones when the power goes out!!!!!