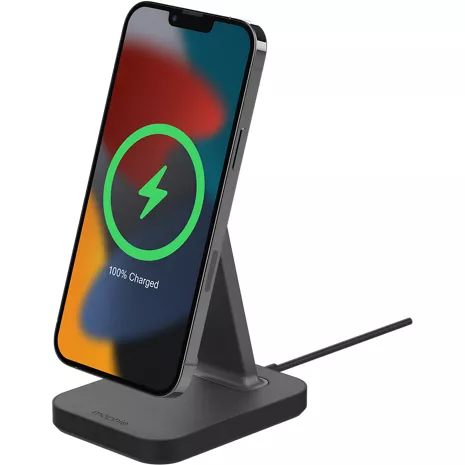 Overview tab selected 1 of 4
Overview Section Start
Keep your devices fully charged with the snap+ charging stand and pad. This versatile charging stand features both built-in magnets for a MagSafe charger and a wireless charging pad on the base, allowing you to charge up to 2 phones simultaneously, or your earbuds and phone with up to 15W of charging power. The MagSafe stand holds your phone in portrait or landscape mode so you can continue to use your device while charging. The weighted base ensures that the snap+ stand and pad stay stable and secure. The eco-friendly design is made in part with up to 30% post-consumer recycled plastic. And, it includes a snap adapter that allows most Qi-enabled smartphones to use the magnetic charging stand.
Reviews
75% of reviewers recommend this product.
Perfect for what I need on my desk.
Brandan H. . 3 months ago
I have the biggest version of this to my son and bought this one. This one has perfect for factor and I love it. I was concerned about clearance with EarPods in a case and the phone over it but it works great.
zagg.com Originally posted on zagg.com
Fancy!
rebecca P. . 3 months ago
Love this! Had to put the magnetic ring on my phone, but they supply that. It looks great and works great for both the phone and the AirPods.
zagg.com Originally posted on zagg.com