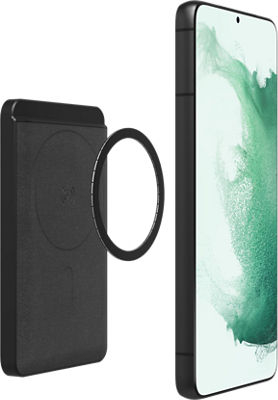 Keep your device charged while on the go with the snap+ juice pack mini. This compact portable battery wirelessly charges your device all you have to do is connect it to the back of your phone. The built-in magnetic array aligns with your MagSafe compatible device for quick, efficient charging. A snap adapter is included so most smartphones can be compatible with your Snap+ Juicepack Mini 5k. An integrated 4-light LED power indicator lets you know how much battery power you have left. And, it charges through lightweight cases so you don t have to remove your case to charge your phone.
Reviews
106 reviews
of reviewers recommend this product.
I have a Samsung 21
I have a Samsung 21 fe 5g and if I use the wireless part of the charger it gets really hot bot the harder and the phone
iPhone 13 Mini / Snap+ Juice Pack Mini
Snap+Juice Pack Mini does not align properly with the iPhone 13 Mini. It hangs off the bottom almost 1/2 inch or more. It will not work with the Otterbox Commuter without attaching the magnetic ring. It does, however, charge up the phone but not to 100%. I connected the battery when I had approximately 30% charge left, and it only charged to 80%. This happened twice. I purchased another magnetic ring and attached the ring to the iPhone 13/Otterbox, so when attaching the battery, it aligns with the iPhone properly; and charging still works.