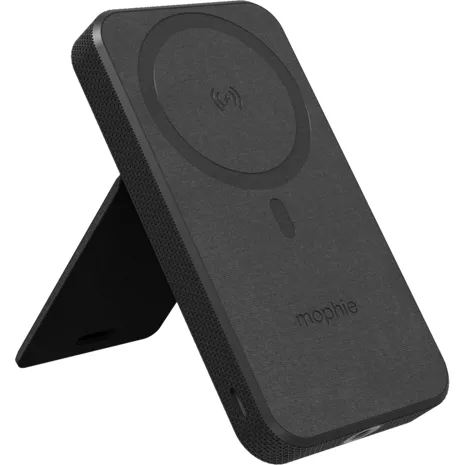 Overview tab selected 1 of 4
Overview Section Start
Keep your phone charged while on the go with the snap+ powerstation stand. This compact charging stand has a 10,000mAh battery so you can charge your phone while on the go. It works with both MagSafe and Qi-enabled devices and comes with a snap adapter for your phone. The magnetic array makes sure your phone is aligned perfectly so charging begins immediately. And, it's wireless charging compatible so you can use a Qi-enabled pad or stand to charge your powerstation.

Versatile USB-C port.
The built-in USB-C port can charge your powerstation, but can also charge another device so you can charge 2 phones at the same time.

Filming is a breeze.
The snap+ powerstation stand includes a quarter-inch tripod socket to make it easy to mount your phone. And, you can easily switch between landscape and portrait mode.
Reviews
65% of reviewers recommend this product.
Not your best charger.
Not liking the metal ring glued to the back of phone. The edges are sharp, why?
Easy to use
Yes, I'd recommend this product.
So easy, just snap on and let it charge