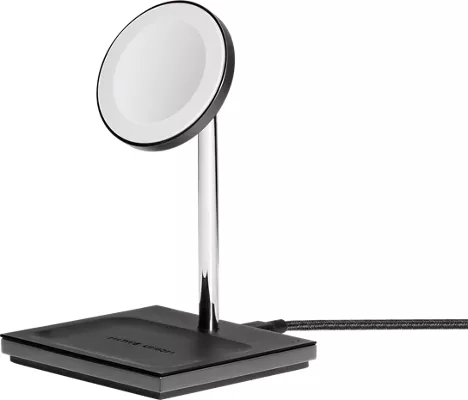 Keep your phone fully charged with the Snap Magnetic 2-In-1 Wireless Charging Stand. This MagSafe-compatible stand's strong magnet strength holds your phone in place for up to 7.5W of charging power. Mount your phone horizontally or vertically for easy access while charging. Attach and detach your phone with one hand for a hassle-free experience. The weighted base with a silicone strip has a non-slip hold on flat surfaces. The 2-meter braided USB-C to USB-C allows for flexible placement. And, it's compatible with most Qi-enabled phones for charging up to 5W.
Reviews
18 reviews
of reviewers recommend this product.
Love the design and build
Love the design and build quality. Looks beautiful on my desk. Also, the charging works seamlessly for my iPhone and Airpods Pro!
Do Not Use with Apple's Leather Case—Will Stain
I have the same staining problem as Jakub K. I tried the melamine/magic eraser that NU suggests and there was may a slight decrease in staining. Sad, because the stand is really nice otherwise. Interesting that NU, focused on design, doesn't offer a refund for a product that stains an obvious white disk when used as directed with an Apple case.