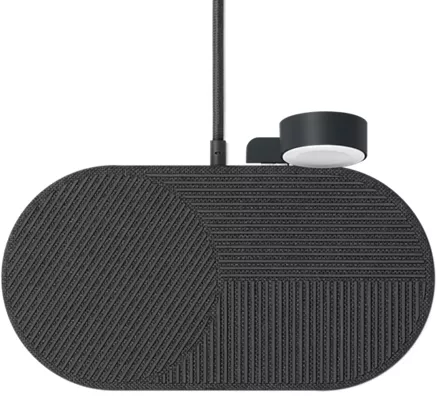 Keep your device fully charged with the Drop XL Wireless Charger with Apple Watch Charger. This extended wireless charging pad has enough space for 2 Qi-compatible devices plus a USB-A port to charge up to 3 devices simultaneously. A silicone tread pattern holds your device in place while also offering temperature control for optimum charging. The detachable Apple Watch puck allows you to also charge your smartwatch and smartphone with one charger. And, it charges through cases up to 3mm thick so you don't have to remove your case to charge your phone.
Reviews
52 reviews
of reviewers recommend this product.
i cant make 1 of
birgitte l. · 2 months ago
i cant make 1 of the chargers work, dont know if my phone is to old, cant find any information about it!
Very Disappointed
My product stopped charging my iphone 13 pro max after 1 month,i sent 2 videos for them too show them the problem and seems that i can't get a replacement cause is older than 14 days!I just got apologises and they told me that the product is not compatible but if you go on there website on iphone 13 pro max products this product appears compatible! Hi Bogdan, Thank you for reaching Native Union customer support. Apologies for this issue, please be informed that the DROP XL WIRELESS CHARGER is not or fully compatible with the iPhone 13 series due to the camera sticking out much more on the new iPhone Pros. This added distance interferes with the Drop/Dock-WL and results in more frequent charging problems. (does not start charging, interrupts charging with red LED, or is extremely slow especially from 80-100%). That is why as a general guideline we recommend customers with an iPhone 12 and 13 to buy only our magnetic wireless chargers (Snap Magnetic chargers and/or Snap 2-1). These provide the best performance and user experience. They are specially tailored to the new phones and certainly the better choice for new buyers than the non-magnetic Drop/Dock-WL. We hope for your kind understanding. Hi Bogdan, Thank you for reaching back. Apologies if one of our products/descriptions is not yet updated we are still coordinating with our relevant team to correct the issue, Some customers who bought Drop/ Drop XL or Dock WL before may find it is working fine with their new iPhone 13s, but for others, it won't, and the details become quite messy so our general guideline is to say they are non-compatible. You can still return the product if this is was ordered directly from us and still within the 14-day return period or if this was ordered from a retail store, kindly contact them to dispute a refund or process an exchange. We hope for your kind understanding. Please feel free to contact us if you need any further assistance. Thank you Regards, Native Union Support Team