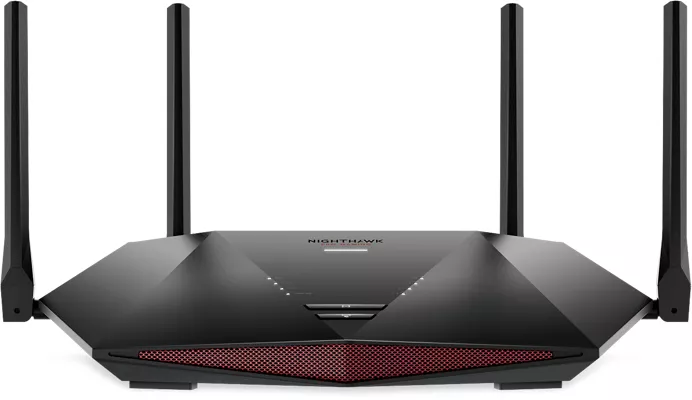 Take your gaming experience to the next level with the Nighthawk XR1000 WiFi 6 Pro Gaming Router. This powerful gaming router helps direct traffic and manage bandwidth so your device performs at top speeds. Geo fencing allows you to customize and filter which game servers you play on for an elevated experience. Ping your favorite game servers with the ping heatmap to display your connection quality. The router features 5 ports for gigabit ethernet to WiFi connections. AX WiFi supports most WiFi devices that support WiFi 6 and is backward compatible with WiFi 5 and earlier generations. And, you can test your connection's speed, ping and performance under peak congestion.

Lower lag ping.
This sleek gaming router helps lower lag ping up to 93%, allowing for faster reaction times, and a more seamless gaming experience. Boosts your network to 4X capacity and up to 40% faster speeds with WiFi 6.

Adjust your bandwidth.
Use the traffic controller to ensure device and application QOS (Quality of Service). This can help that your Work From Home video calls are not interrupted when someone else is streaming movies or gaming.

Powerful DumaOS software.
With a fully customizable gaming dashboard, powered by DumaOS, you get a suite of game-changing tools to help you better prioritize applications and devices.
Reviews
677 reviews
of reviewers recommend this product.
Awesome Product
Easy to install/set up, the app guides you through everything in about 10min. Wifi speed more than doubled, it's worth every penny.
Everything looks good
William Sparks · 7 days ago
Easy to install, exceptional Netwerk performance, and support application appreciated.