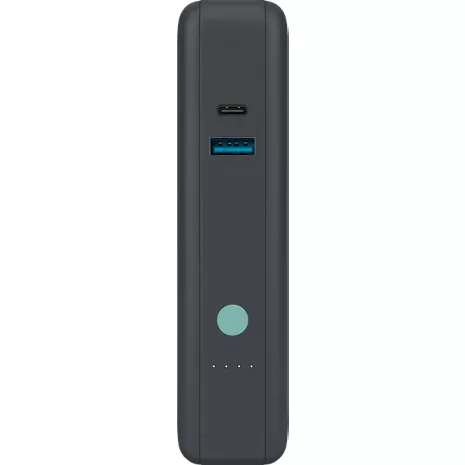 Overview tab selected 1 of 4
Overview Section Start
Keep your devices fully charged with the Eco-Friendly WALLY Pro 60W Wall and Portable Charger. Made from 72.5% certified recycled plastic, this GaN powered charger is designed for a compact size that packs a powerful punch. The built-in 10,000 mAh battery delivers up to 63W of Power Delivery high-speed charging so you can keep going full throttle. And, with dual USB-C and USB-A charging ports you can charge up to 2 devices simultaneously.

Climate Neutral company.
Nimble is a Climate Neutral company, certified by an independent non-profit organization to measure, offset and reduce overall greenhouse emissions from all products and services.

1% for the Planet.
Nimble is a Certified B Corporation® and commits to giving at least 1% of it s annual revenue to environmental nonprofits.

One-for-One Tech Recovery Project.
Don t let those old electronics pile up around the house. Through Nimble s One-for-One Tech Recovery Project, you can work with Nimble to recycle your old phones, laptops and more. For more information, visit gonimble.com/pages/recycling-program.

Reviews
67% of reviewers recommend this product.
Not worth the money
When I first bought this it was a good battery pack/wall charger. But over time I noticed that I started having issues where the battery would charge my devices. Have to unplug and plug and it cycles between all types of charging output. For 100 dollars this thing should work like how it's advertised. Avoid this item at all cost. Buy another brand that's not nimble.
Flawed design, frustrating product
The device has issues waking from sleep mode whether you press the button or plug/unplug the USBA/USBC. I often need to press the button or plug/unplug 3-4 times. Incredibly annoying and I have found device either not charging when I thought it was, or not able to charge at all. Additionally, the capacity appears severely reduced. My iPhone 12 mini should be able to charge 3-4 times but I often get only 2 charges. I have contacted Nimble and they replaced my unit but the replacement functions exactly the same. Verizon will not return my unit outside of the 30 day purchase window so I am stuck with this lump of garbage.