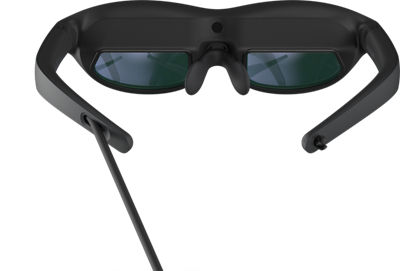 This item is on back order. Ships by Fri, Jan 28.
Get it fast
Select shipping options at checkout. Subject to eligibility.
Immerse yourself in the virtual world with the Light AR Glasses. These lightweight, fashionable and comfortable mixed reality glasses feature a portable, 220-inch IMAX screen. Create your own private theater experience with a 1080 HD screen and integrated speakers. Multitask with your favorite apps like YouTube, Instagram or WhatsApp. once you plug in your phone and open the products app, all your phone apps will appear in your augmented reality space, and you can use your phone as a 3DoF controller. And, the glasses keep your experience private and secure so only you can see what's displayed.
Reviews
2.5/5
6 reviews
50%
of reviewers recommend this product.
Beta beta beta. Not ready for public!
They are interesting look at directio. Of technology but they are no where near ready to be sold and used by the public. They are extremely limited on apps a d functions. And the for is so small . It was so bad I opened a return within hours of opening the box. I did t even let my family try it I was so disappointed. I cannot believe Verizon allowed these to be sold. And now it's been a month and still waiting on refund.
Phenomenal hardware, but...
Yes, I'd recommend this product.
The hardware itself is phenomenal. It functions well, and has tons of potential but right now there's not much to back it up. There's a limited number of apps and experiences out. Nreal offers software to make your own apps but that doesn't help much for common people.