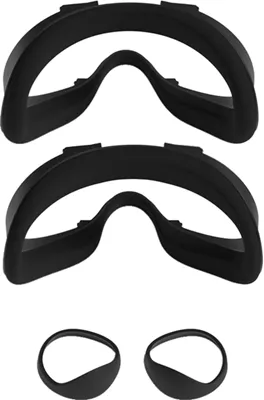 Customize your Quest 2 VR headset for the ideal fit with the Oculus Fit Pack. This 2-pack of interchangeable facial interfaces provide wider or narrower options to increase or reduce padding between the face and headset. Silicone light blockers prevent excess light from coming in around the nose for a more immersive VR experience. And, all pieces are made from the same breathable foam and medical grade silicone as the standard fit.
Reviews
429 reviews
of reviewers recommend this product.
Oculus
We wish we can return it. It was not comfortable. My son did not like it. Very disappointed!!
A growing opportunity
Bernadette · 3 months ago
The technology is nearly there, my main frustration is I feel a little kneecapped by not having the rich experience of being tethered to a PC, which vastly improves the performance of the headset. A VR-compatible PC would come at great personal expense unfortunately. I'm hoping Meta finds a way to lower the cost of this essential upgrade for VR DJing, playing games for extended times, harder levels of Beat Saber that require more processing to render at hard mode so many notes at a time. I'm disappointed that I do not have these features after making a sizable investment in the headset and extended battery strap. I like using this, but im limited as to what I can do with it given my current laptop situation, which is rather unfortunate after sinking so much into this experience already.