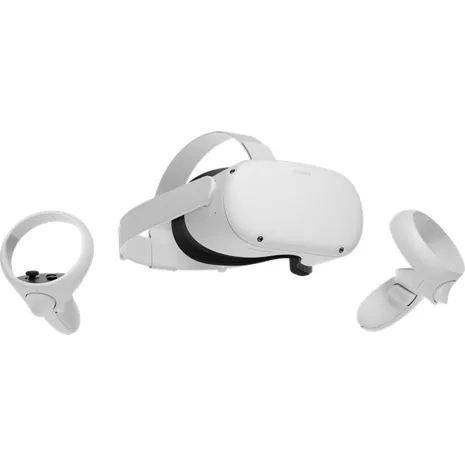 Overview tab selected 1 of 4
Overview Section Start
Quest 2 is the all-in-one system that truly sets you free to roam in VR. With no wires or cables to limit your experience, simply put on the headset, draw out your play space, and jump into fully-immersive, imagination-defying worlds. A super-fast processor and high-resolution display help to keep your experience smooth and seamless, even as high speed action unfolds around you. 3D positional audio, hand tracking and haptic feedback make virtual worlds feel real. A built-in battery lets you explore further for longer as you discover a growing library of over 350 titles across gaming, social/multiplayer, fitness and entertainment. Incredible social spaces and multiplayer arenas let you meet, play and build communities with people from all over the world. Travel universes in blockbuster fantasies, scare yourself witless in horror adventures or collaborate with colleagues in innovative workspaces. Sit front row with friends and family at movies and live events, find your new workout crew or join quests with fellow adventurers. And you can access over 1,000 titles in the Rift library by connecting your VR headset to a gaming-compatible computer (PC and cable sold separately). Let your friends and family into your VR world by casting your experience to compatible TVs and other screens. And anywhere you go in the real world, you can take your lightweight, portable Quest 2 with you.¹ For ages 13 and up only.



¹ Requires mobile device, wifi and companion app for setup. Account registration required.



Reviews
85% of reviewers recommend this product.
It is absolutely amazing
I love everything about it it's everything I wanted and then some to be honest
oculus.com Originally posted on oculus.com
Games and design are good but comfort is horrible
It has a great selection of games and revolutionized the vr industry but has horrible comfort without buying a third party head strap or if you have a very strong neck. the design is great except for the wrist straps if you're playing and intense game like gorilla tag the ends of the straps hit you and the controller making a very annoying click sound.
oculus.com Originally posted on oculus.com