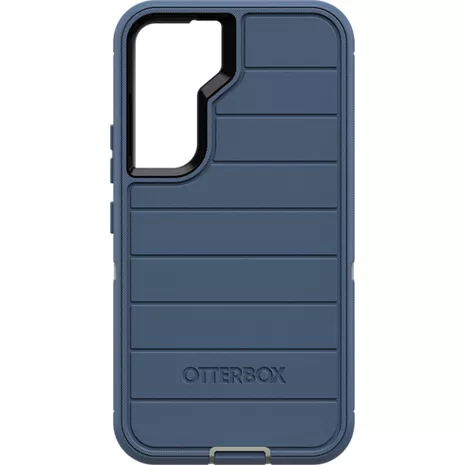 This item is currently only available for Express Pickup. 
Select a store to continue.
Overview tab selected 1 of 4
Overview Section Start
Protect your phone from drops, bumps and dings with the Defender Pro Series Case for Galaxy S22. Made with up to 50% recycled plastic, this eco-friendly case also features a premium rugged design to protect from bumps and dings. The raised edge provides added screen protection. Port covers block dust and dirt. It's wireless charging compatible, so you don't have to remove your case to charge your phone. And, the holster works as a hands-free stand and belt clip.

Lasting antimicrobial technology.
The case is infused with a silver-based additive that blocks microbial growth and protects the case exterior against many common bacteria.¹

OtterBox tough.
OtterBox puts their cases through rigorous testing. OtterBox Certified Drop+ Protection is backed by 24+ tests and 238+ hours of testing so you know you are getting a tough-as-nails case.²



¹ Helps protect the case exterior against many common bacteria. It does not protect you, the screen or primarily-interior pieces of case or holster.




² Based on independent testing.
Reviews
81% of reviewers recommend this product.
Otterbox, worth the extra cost!
I have always trusted the Otterbox name, and this one is living up to my hopes. Not only does it look great, but it feels good in my hand. The outer case has a gripping txture to it, which keeps it from sliding around on most all surfaces. Its looks and feels durable and tough. Came with an outer case that you can clip onto a belt or your waistband, but i havent used that feature and doubt i ever will.
Doubting the Quality
Look, as I write this review, I'll be buying this case for a second time. Word for word, this is what I wrote when I placed a new order for the warranty was: "I dropped my phone from the edge of my bed one day (lower than waist height, about 70cms), and my case broke at the edge even though the phone fell flat on its face. I had the case for less than a month at the time (I got a new phone the same day), and I had never dropped it prior to this. " The hard plastic took a big hit on the edge for some reason, and I was completely baffled. This would make the second Otterbox case I had to replace in less than three years. I'm not big on the outdoors or anything, so it's even more disappointing. I've been buying from this company since before I even knew about their policies, so I'm willing to try again with them. I really did enjoy their cases on my other phone (and the replacement they sent for that one is holding up through a sticky two-year-old!). However, I'll be submitting a complaint if I have to deal with a SECOND broken phone case this time next year (or any time before then).
otterbox.com Originally posted on otterbox.com