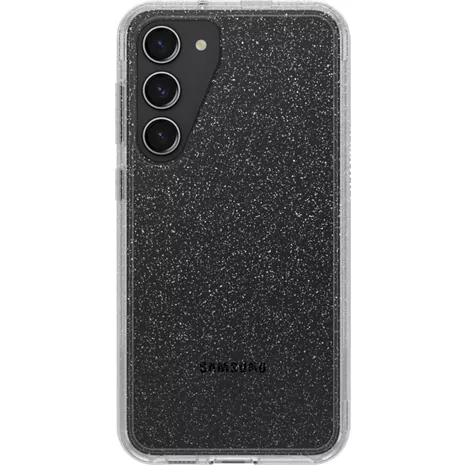 Overview tab selected 1 of 4
Overview Section Start
Dress your phone up for spring with these unique, exclusive designs for the Symmetry Clear Series Case for Galaxy S23+. This ultra-sleek, 1-piece case is made with up to 50% recycled plastic for a sustainable design that is engineered to stay clear. Durable protection shields against drops, bumps and fumbles, with raised edges to protect your camera and touch screen. And, it's wireless charging compatible so you don't have to remove your case to charge your phone.

Lasting antimicrobial technology.
The case is infused lasting antimicrobial protection that blocks microbial growth and protects the case exterior against many common bacteria.¹

OtterBox tough
OtterBox puts their cases through rigorous testing. OtterBox Certified Drop+ Protection is backed by 24+ tests and 238+ hours of testing so you know you are getting a tough-as-nails case.²

¹Helps protect the case exterior against many common bacteria. It does not protect you or the screen. Active ingredient: silver phosphate glass.
²Based on independent testing.

Reviews
64% of reviewers recommend this product.
Disappointed that the sides are discoloring.
Otterbox is fully functional, however, I've only had it for a couple of months and the plastic/rubber on the sides is absolutely disgusting looking. It is discolored and brown looking. I have tried to keep it clean and wiped it down but it just looks discolored and nasty. I'm replacing it because it looks so terrible. This is the first OtterBox that I have ever absolutely hated.
otterbox.com Originally posted on otterbox.com
Make triple sure what kind of phone this case is compatible with!
I bought this to pair with the Samsung Galaxy S23 (not the plus). At the time it had said it was compatible with it. Upon arrival, it was much larger than the new phone i upgraded to. I went to see about an exchange, and soon realized rhe issue. There are MULTIPLE phone cases in the shop that say they are compatible with the S23 and the S23 (its listed twice over as the same phone) but the image shows it has the gap on the volume buttons that the S23 doesnt have that the S23+ does. I went with a return instead and bought a case for the new phone off of amazon. Verizon, your customers shouldn't have to puzzle put what is wrong with your system like this.