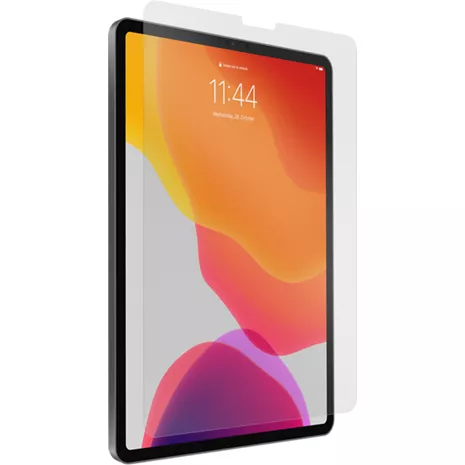 Overview tab selected 1 of 4
Overview Section Start
Create a paper-like surface for your tablet with the Screen Protector 2-Pack for iPad Pro 12.9-inch (6th Gen)/(5th Gen). Made with Nanodot technology, these screen protectors provide a smooth, matte surface that makes your tablet feel like writing on a notebook. Reduce muscle fatigue, improve your handwriting and more. The anti-glare design preserves the vibrancy of your display while allowing you to enjoy your screen time, even in the sun. And, microbeads create vibrations that mimic slightly, creating the sensation of writing on real paper.

Easy application.

The included Applicator Tool makes it easy to install your screen protector without any bubbles or bumps.
Reviews
100% of reviewers recommend this product.
Better than I expected
I'm a professional illustrator (corporate drawings for business development) as well as a fine artist (explorations in digital art). I have been using an iPad Pro with Apple Pencil and Procreate since version 1 of all of those. I got used to drawing on the iPad Pro glass but it was always much slower (and much sloppier) than the drawings I did on paper and then scanned in. Finally I bit the bullet and looked to improve my drawing work flow. After much research, I settled on trying Paperlike. Although it's not like drawing on paper, it is much much better than the iPad Pro glass drawing experience. I've used Paperlike for almost two months now and I would estimate that it has sped up my drawings by 15-20% and cut my errors (the need to 2-finger-tap to undo) by 50%. These time and accuracy savings will add up over time. I'm very happy with my purchase!
paperlike.com Originally posted on paperlike.com
Amazing screen protector if you want your iPad to feel like a notepad
The screen protector is top-notch. It has an amazing build quality and perfect for those who do a lot of writing or drawing on the iPad. it does make the iPad look matte and affects the screen quality for entertainment purposes (watching movies/clips, etc.). But, that's a trade-off I was willing to accept given that I wanted to use iPad for note taking purposes. It's a great product overall. Would definitely recommend if you have the same purpose for your iPad
paperlike.com Originally posted on paperlike.com