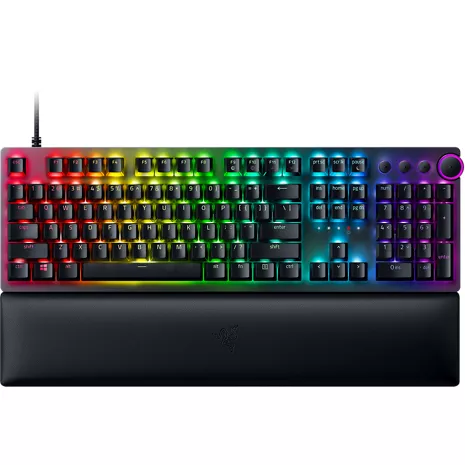 Overview tab selected 1 of 4
Overview Section Start
Less frills, all performance. The Razer Huntsman V2 Full Size Wired Optical Red Linear Switch Gaming Keyboard is an optical gaming keyboard, perfect for gamers who want to speed up their gaming experience. With near-zero input latency, the Razer Huntsman V2 features Razer Linear Optical Switches Gen-2 that allow for smooth, nearly silent keystrokes with its fluid, consistent switches, and sound dampening foam allows for improved keyboard acoustics and a quieter typing experience. The Huntsman V2 is durable and made to last, the Double PBT Keycaps offer a sturdy, textured finish. A built-in wrist-rest allows for a more ergonomic gaming experience with enhanced comfort.

Multi-function digital dial and 4 media keys.
Enjoy convenient control with multi-function dial and media keys that make your gaming experience easier.

Hybrid on-board memory and cloud storage.
Create user profiles and access your settings fast with hybrid cloud and memory storage built right into your keyboard.

Reviews
100% of reviewers recommend this product.
A Marvelous Marvel: The Huntsman Full Size Razer Keyboard
Twitch BucksSama . 4 months ago
Yes, I'd recommend this product.
The Huntsman Full Size Razer Keyboard is a true gem in the realm of gaming keyboards. Combining Razer's renowned craftsmanship with the Huntsman series' superior optical switches, this keyboard offers an unrivaled typing and gaming experience. Having had the pleasure of using it extensively, I can confidently say that the Huntsman Full Size is a remarkable addition to any gamer's arsenal. Performance and Responsiveness: The standout feature of the Huntsman Full Size Razer Keyboard lies in its innovative optical switches. With an actuation speed that is 30% faster than traditional mechanical switches, every keystroke feels lightning fast and ultra-responsive. The opto-mechanical technology behind these switches delivers a satisfying tactile feedback, making typing and gaming an absolute joy. Whether you're executing complex macros or engaging in intense gaming sessions, the keyboard keeps up with your every command flawlessly. Aesthetics and Build Quality: Razer has always excelled in the design department, and the Huntsman Full Size is no exception. The sleek aluminum frame exudes elegance and durability, while the customizable Chroma RGB lighting adds a touch of personalization to your setup. The keyboard feels solid and well-constructed, with a weight that ensures it stays firmly in place during even the most intense gaming sessions. The detachable wrist rest is an excellent addition, providing ergonomic support for long gaming marathons. Feature-Rich and Customizable: Razer's Synapse software is a game-changer when it comes to customization. The Huntsman Full Size Keyboard integrates seamlessly with Synapse, allowing you to remap keys, create complex macros, and customize the lighting effects to suit your preferences. The programmable keys and onboard memory enable you to save your profiles and take them with you wherever you go. The dedicated media keys provide convenient control over your audio settings, while the gaming mode ensures you won't accidentally exit your game due to misplaced keystrokes. Overall Experience: Using the Huntsman Full Size Razer Keyboard has been an absolute pleasure. Its top-notch performance, stunning aesthetics, and extensive customization options make it a must-have for serious gamers and typists alike. The optical switches are a game-changer, offering an unparalleled level of responsiveness that greatly enhances my gaming performance. Whether it's playing fast-paced shooters or typing up lengthy documents, this keyboard truly excels in every aspect. Final Verdict: In the realm of gaming keyboards, the Huntsman Full Size Razer Keyboard reigns supreme. Its unrivaled performance, premium build quality, and extensive customization options make it worth every penny. If you're seeking a keyboard that effortlessly combines style, functionality, and lightning-fast response times, look no further. The Huntsman Full Size Razer Keyboard is a remarkable piece of technology that will undoubtedly elevate your gaming and typing experience to new heights
Very clicky
Yes, I'd recommend this product.
[This review was collected as part of a promotion.] This is so fun to type on. I love the colors of the backlight and let them rotate all the time. It's excellent to type and does live up to the clicky hype. I was mainly concerned with performance, but I can't deny it's fun to make some noise while you're typing.
Razer CS Originally posted on Razer CS