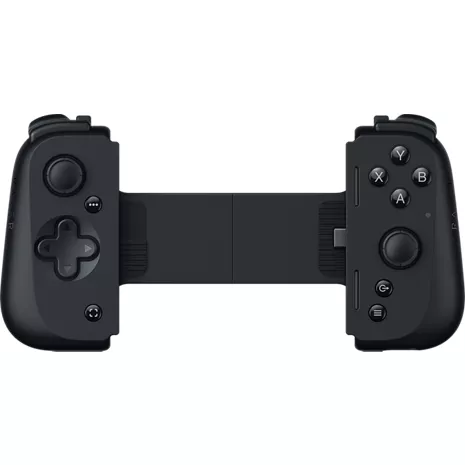 Overview tab selected 1 of 4
Overview Section Start
Get console-style gaming while using your mobile device with the Kishi v2 Gaming Controller for Android. This comfortable, ergonomic gaming controller is made for long gaming sessions, but still slim enough to fit in your pocket. And, It's optimized for maximum performance with ultra-low latency gameplay and passthrough charging.

Universal fit with extendable bridge.
The stable, extendable bridge holds most popular Android smartphones, providing a secure fit while you game.

Stream PC and console games.
Play full PC and console games directly on your phone by streaming on your mobile device or playing from the cloud.

Go further with the app.
Powered by the Razer Nexus app, you can browse through hundreds of compatible games, record and share gameplay and update your Kishi for full customizability.
Reviews
25% of reviewers recommend this product.
Redlinedh22 . 1 month ago
It had problems as soon as I turned it on. I actually bought the razer edge that came with the pro version kishi V2. I kept it for a month with problems off an on. The main problem was the A button kept randomly activating an opening random apps an messing up my actions in games. Razer was no help so I just went to Walmart an bought another razer kishi V2 an returned my pro model in that package. The replacement seems to work good so far just no headphone jack now. The Nexus button is also very irritating. It should even be a feature. It's too easy to hit when reaching for the start button. Then opening the nexus menus while playing a online game gets annoying.
Back bone is better!!
Hated it! I returned it!!