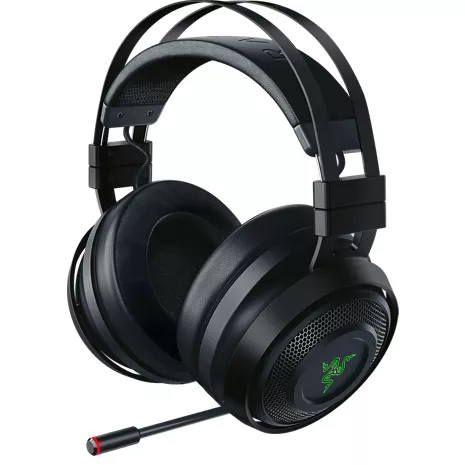 Overview tab selected 1 of 4
Overview Section Start
Level up to the next generation of gaming headsets. Razer's™ Nari Ultimate Wireless Gaming Headset combines crystal-clear 360° positional audio with HyperSense technology. The Nari Ultimate transforms the shape and frequency of game audio into lifelike haptic effects for a complete sensory experience. Vibrations move from left to right at varying intensities according to audio cues, adding heightened awareness to in-game surroundings.

Seamless, immersive experience.
THX Spatial Audio* delivers seamless 360° positional audio for a more natural and lifelike experience. By simulating sound both above and below you, the Nari Ultimate Wireless Gaming Headset provides the next stage of gaming immersion.

Hours of fuss-free comfort.
Cooling gel-infused ear cushions reduce heat build-up, while leatherette-wrapped foam ear cushions ergonomically cup the ear for maximum noise isolation and comfort. And for those who wear glasses, the Nari Ultimate Gaming Headset has hidden indented channels to minimize the pressure from your glasses. Additional comfort features like an auto-adjusting headband and swiveling ear cups ensure hours of gaming.

Keep your head in the game.
2.4 GHz wireless technology means you get lag-free, high-fidelity audio for your entire gaming experience. A USB transceiver provides up to 12 meters of wireless range, and headset audio controls let you adjust any setting quickly and easily.

*THX Spatial Audio available with Razer™ Synapse 3.
Reviews
25% of reviewers recommend this product.
Solid for PC gaming, albeit the sound is still mediocre for $200. Mute button doesn't actually mute your mic. WILL NOT work with any Xbox.
The God Zeen . 1 year ago
If you want ones that work for Xbox you have to buy the same exact headphones but with the FOR XBOX label and they won't work for anything else. This headsets inability to use Bluetooth, work with Xbox's, etc gives it a massive two thumbs down from me and my other two headsets are a regular wired Xbox headset and a pair of Beats Studio 3's. These sound worse than the $59 wired Xbox headphones.
Horrible
I ordered these over 2 weeks ago expecting the 2 day shipping as advertised. But what they don't tell you is when they will ship them. It wouldn't be bad if they would at least tell you when they might decide to ship them. But nothing, not a single word from anyone. Very poor service!! Can't write a review on this product, without getting the product first.