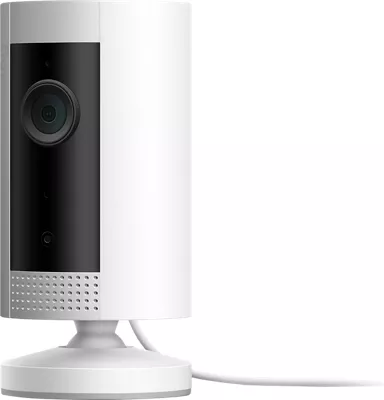 Maintain your peace of mind with the Ring Indoor Cam. This plug-in security camera keeps tabs on your home with 1080p HD video, giving you a clear picture of what s happening at any given time day or night. Pair this Indoor Cam with multiple Ring cameras to make sure all your angles are covered, all of which you can control from the Ring app on your phone or tablet.

Team up with Alexa.
Connect your Indoor Cam to Alexa for easy monitoring. When the motion sensors on your Indoor Cam are activated, your compatible Echo device will illuminate and make an announcement. If you have an Echo Show or Echo Spot,* you can see, hear and even talk to the person on the other end with 2-way talk.

Customize your range of vision.
This easy-to-install camera allows you to fully customize the area you re watching at any given time. The designated motion zones work together to make sure you can keep track of everything, from who comes to the door, to what your dog gets up to while you re away at work.

Easy to install, anywhere.
The Indoor Cam has a simple plug-in installation and a compact design so you can discreetly place it almost anywhere in your home.

*Echo devices sold separately.
Reviews
242 reviews
of reviewers recommend this product.
Ring home security camera
Honestly it could be a little bit better. But it still gets the job done! The motion detection is EXTREMELY sensitive. The wind can blow something and it will go off. Ends up being like every other couple minutes, no exaggeration. But like I said, it is good enough to show you everything going on at home, while you're gone and while you're at home also. Not so sure I would exactly, RECOMMEND it to someone who was truly trying to get a great quality for their money. I would if someone needed something "quick, anything
Ring
Put this in the kitchen to point at a door. It works great the alerts and motion are easy to set up and being able to talk thru the app is fantastic.