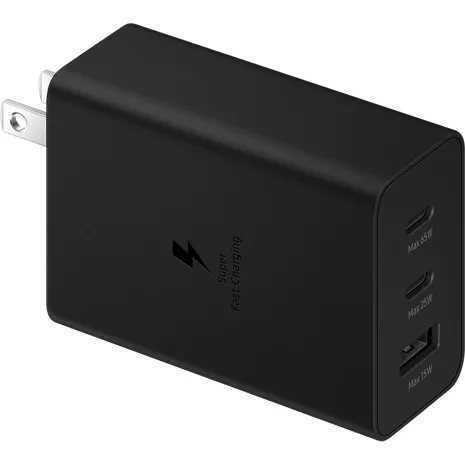 Overview tab selected 1 of 4
Overview Section Start
Keep your devices fully charged with the 65W Power Adapter Trio. This compact power adapter charges up to 3 devices simultaneously to keep your whole ecosystem charged. It features both overcurrent and short-circuit protection to ensure that your devices charge safely. Built-in temperature protection keeps the charging block from overheating. Low noise operation ensures a quiet charge, while designed to charge quickly. And, with a low-leakage current, you'll charge with minimal wasted energy.

Reviews
82% of reviewers recommend this product.
Does the job but could be better.
Gemini Guy . 2 months ago
Plan on returning item. It foes the job and charge phone, but doesn't charge as fast as you would want it to and ive only been charging one thing at a time. My old single charger that went to my Samsung Note 20 charged a phone way faster then this block. I think $60 bucks for this is a little too much.
Great charger.
Yes, I'd recommend this product.
This is a great charger! Testes it to power laptop, it works great. Usually I use 25w port to charge my Galaxy cellphone, just around 1 hour, it can charge to 85% from 20%, the good thing is no heat on the phone.